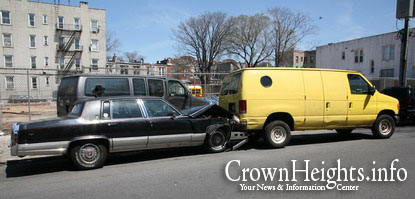 Earlier today at around 11:45am there was an accident involving the Rebbes car. The incident took place in the intersection of Troy and Carroll, the Cadillac was driving up Troy Ave when a dark gray 15 passenger van, driven by another Yid, ran a red light and was hit by the Cadillac.
More pictures in the Extended Article.

The van knocked down an emergency 911 'call box' that was on the corner as it lost control and ended up on the sidewalk and the Cadillac rear ended a parked van on Carroll. Both vehicles sustained significant damage but B"H there were no injuries.
The driver of the Cadillac told CrownHeights.info that "he was heading up Troy Avenue when the van suddenly ran the light and he didn't have enough time to stop" while the other driver told CrownHeights.info that he indeed did run the light.
The Rebbes car was taken to 'Everything Automotive' [a CrownHeights.info advertiser] where it was always serviced. They do intend to repair it.