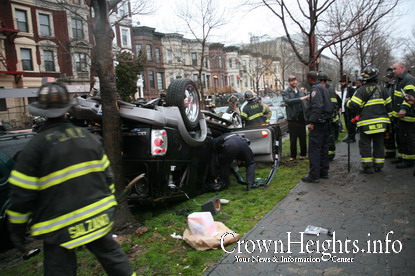 Crown Heights, Brooklyn — At 6:50 this evening pedestrians witnessed a very wild scene on Eastern Parkway when a SUV lost control and rolled over about 3 times, according to witnesses and came to rest on a parked car and a tree on the other side of the 'island'.
More pictures and a video clip in the Extended Article!

According to eyewitnesses the SUV was traveling Westbound towards Grand Army Plaza in the left lane when a car cut him off from the right causing him to lose control of the SUV and went rolling over and barreling into the tree and parked car.
The stricken parked car had a child in it, who was in middle of being taken out by his aunt, while the child's mother was in middle of unloading things from the trunk. Miraculously the tree took the full brunt of the impact and the car only sustained minor damage.
While the SUV lay upside down lots of 40oz beer bottles along with other cans of beer spilled from the vehicles interior, at least one was open. The driver didn't appear to sustain any serious injuries and police arrested him for Driving Under the Influence [DUI]. He was transported by FDNY EMS along with an officer on board the ambulance to Kings County Hospital.
Later NYPD's ESU division responded to roll the vehicle back over for the tow truck to be able to take it away, drove up on the sidewalk and got stuck in the mud, officers tried to get it out, but to no avail. The truck was removed by the tow truck that responded.