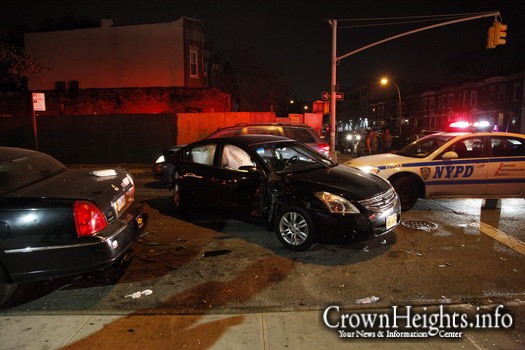 A speed demon caused a massive crash at a busy Crown Heights intersection, blowing through a red light and crashing into one car which crashed into a parked car, then attempting to flee with his wrecked car.
The crash occurred at around 5:20pm at the intersection of Troy Avenue and President Street. A black BMW sports car was observed speeding down President and collided with a black Nissan Altima that was traveling up Troy, spinning it around then colliding with parked car. Both vehicles sustained serious damage.
The driver of the BMW attempted to flee with his wrecked car only to crash once again into a parked car in the middle of the block. The car would not drive anymore so the driver fled on foot.
Miraculously the driver of the Nissan did not sustain any serious injuries and no pedestrians were hurt.
One witness told CrownHeights.info "I saw [the BMW] coming so fast, he was really speeding, like he was running away from something. The light was red for him and he didn't even slow down and just crashed into that car."