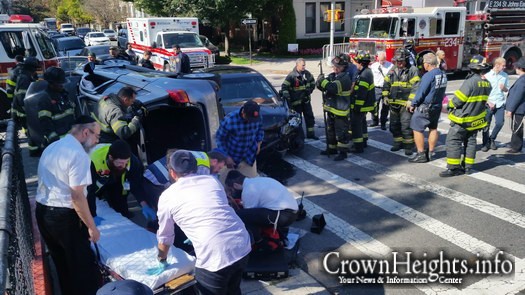 A violent crash between two cars in a busy Crown Heights intersection sent one car flipping onto its roof and injuring both drivers.
The crash occurred at around 12:45pm in the intersection of Union Street and Brooklyn Avenue. The vehicles, a black Honda sedan and a gray Mitsubishi SUV, were coming from different streets when they collided.
The SUV rolled over and unto its roof and the sedan came to a stop beside it. The driver of the Honda got himself out of the car, while bystanders helped get the drive of the SUV out of his vehicle.
Hatzalah was the first on scene and gave medical assistance to both drivers. None of the injuries are being considers as life threatening, and the drivers were both transported to area hospitals.