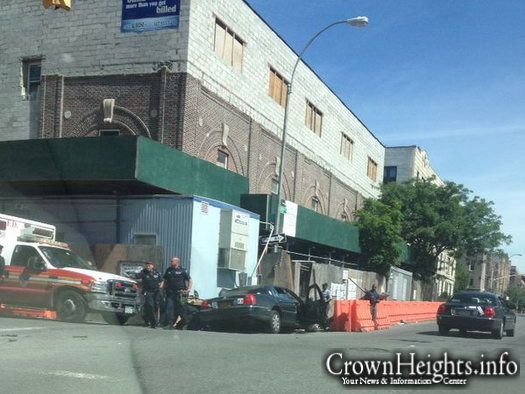 A single speeding vehicle caused carnage after swiping a parked car then smashing into a construction site on Troy Avenue, the driver and passenger fled the vehicle.
The incident occurred on Friday at around 10:00am at the intersection of Carroll Street and Troy Avenue. A black Lincoln Town Car was speeding up Troy and as it neared the intersection of Carroll it swerved and swiped a parked car, then careened into a construction site.
Witnesses said that the driver and passenger, who appeared to be Hispanic males, fled the wrecked vehicle.
First responders treated a person who was sitting in the parked car while police officers searched for the driver of the town car. A short while later the driver returned to the scene smelling of alcohol and visibly impaired. He was arrested for driving while intoxicated.