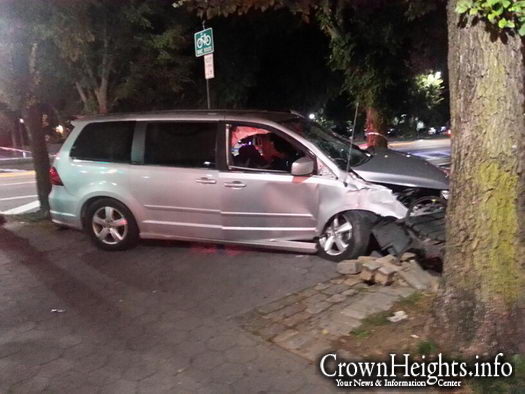 A teenager was critically injured after attempting to cross Eastern Parkway; a speeding minivan struck him, swerved onto the median, crashed into a light pole and finally came to rest on a bench.
According to crash investigators, the driver of the minivan attempted to 'beat' a yellow light near the intersection of Eastern Parkway and Classon Avenue when the collision occurred.
"The driver mowed the guy down and lost control. I ran right up to the kid, and he was breathing faintly, face down," a witness told the New York Post.
EMS rushed the teenager  to Kings County Hospital, where he was listed in serious condition, while police held the driver at the scene. Two hours later Hatzalah was called to treat the driver.
According to the Post, alcohol was ruled out as a factor in the crash, but it is unknown if the driver will face any other charges stemming from the incident.