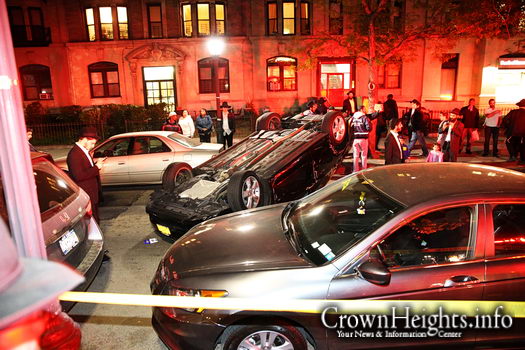 A man and child were injured after their car flipped over after making a turn into an Eastern Parkway service road, thankfully no one was seriously hurt. The crash drew dozens of spectators.
The collision occurred at around 8:30pm, when a late model Acura sedan made a left turn from Kingston Avenue into the Eastern Parkway service road and somehow ended colliding with two parked cars, then flipping over and ending up on its roof.
First calls to 911 said that people were trapped in the car, but by the time rescue workers arrived on scene the occupants, a man and child, managed to free themselves from the wreckage.
The driver claimed that a pedestrian had darted out into the street causing him to swerve and flip over, but the child passenger said  that it was a car that pulled out in front of them.
Both occupants sustained cuts and bruises – none of which were life threatening – which left the sidewalk spattered with blood.
According to an eye witness the car was traveling at a high rate of speed and when making the left turn the vehicle lost control, spinning around 180° striking two parked cars, then spun another 90° and flipped over.
Emergency Services Officers up-righted the severely damaged vehicle and swept up the scene.
Both patients were transported by EMS to local hospital for treatment and observation.