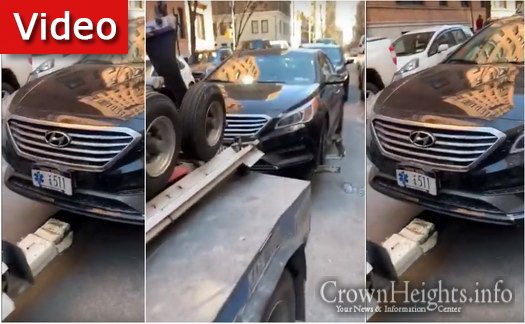 NYPD Tows Hatzolah Vehicle While Treating Cardiac Patient
In a shocking video, a NYPD tow truck can be seen towing a Hatzolah members car while he was on an emergency call in Manhattan. The car was towed despite a Hatzolah and DOT placard displayed in the window.
by CrownHeights.info
A video on social media of a Hatzolah members vehicle being towed by the NYPD has gone viral, following the incident earlier today.
Hatzolah had responded to a call in the Upper West Side of Manhattan at around 1:00PM Tuesday. Due to a lack of parking, the Hatzolah member, a Paramedic and  Doctor, left his car parked in the street, blocking traffic.
An NYPD traffic agent, noticing the parked car, called a tow to remove the offending vehicle.
The Hatzolah members on the scene noticed what was happening, and approached the traffic agent and tow, to no avail. They refused to change their decision to tow.
Despite the Hatzolah and DOT placard, as well as the obvious emergency nearby, the police towed the vehicle, and gave a second Hatzolah vehicle a ticket for double parking.
UPDATE: The car was released with no payment required.