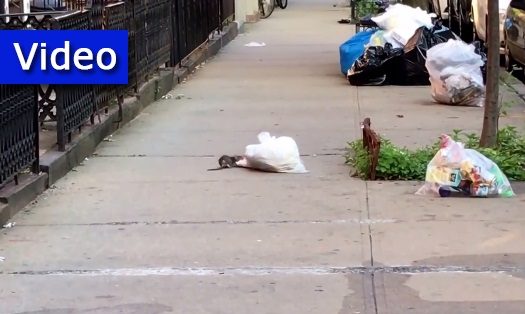 A massive rat is gaining national attention after it was filmed dragging a garbage bag several times its size across a Crown Heights sidewalk.
The incident was filmed this past Thursday on Dean Street between Kingston and Brooklyn Avenues by a local resident, who stopped in her stacks as the shocking image unfolded before her eyes.
Residents say the rats are becoming an increasing problem in the neighborhood.
Two years ago, another New York rat – dubbed "Pizza Rat" – became a viral sensation after it was seen dragging a slice of pizza down the stairs in the subway, oblivious to commuters rushing by.
Pizza rat strikes again- this time with an entire personal sized pizza. #crownheights https://t.co/YscdNAiJHU

— Leigh Conner (@LeighCConner) June 15, 2017