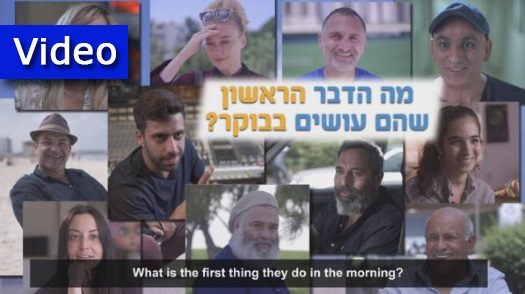 from Lubavitch.com:
A clever advertising campaign in Tel Aviv has put oomph and dazzle into a traditional Jewish ritual.
Slick video clips appearing on Chabad of Tel Aviv's "Modeh Ani" social media pages feature singers and actors celebrating the morning ritual of giving thanks. Modeh ani, "I am grateful," are the first two words of the Hebrew morning prayer that is customarily said upon awakening each morning. Playing off these words, the notables are answering the self-reflective question: Mi Ani? "Who am I?"
"For me, saying Modeh Ani is to be thankful for what you have, for family, for livelihood, for life in general. It's a consciousness that remains with me all day long," shares actor Morris Cohen.
The campaign, launched by Chabad of Tel Aviv, is raising awareness among the startup nation's forward-looking demographic, including teenagers, students, surfers and businesspeople too preoccupied for introspection, to take a moment each morning and express thanks to G-d for the blessing of a new day.
"The Talmud tells us that sleep is similar to death—so when you wake up in the morning, you have to thank He who gives us life!" notes actor Danny Steg.
Launched by Tel Aviv's head Chabad representative Rabbi Yosef Gerlitzky, the campaign's script was written by Rabbi Yechezkel Gvirtz and directed by actor and movie producer Zevulun Moshiashvili. The first video clip, posted last week, has reached over 70,000 views on the campaign's Facebook page alone, and over half a million across its combined platforms.
Working together with several community members in show business, Gvirtz recruited some of Israel's top celebrities to the cause, among them actors Shalom Michaelshvili, Rotem Zisman, Morris Cohen, Gala Kogan, Yuval Shem-Tov and Danny Steg, as well as popular Israeli singers Eden Ben Zaken, Eliad Nahum, and Maya Buskila and IDF Brigadier General Avigdor Kahalani.
When Gvirtz asked the celebrities to participate in the program, he was surprised to learn that most of them confirmed that they already do, in fact, begin the day with the morning prayer. "Although some people may not look conventionally 'religious,' Modeh Ani is relevant to everyone."
Gerlitzky, inspired years ago by the Lubavitcher Rebbe's chief-of-staff Rabbi Chaim Mordechai Aizik Hodakov to ensure that Tel Aviv's children wake up with the Modeh Ani on their lips, is now grateful for the digital age. "Never before have we had the chance to access this many people in such a short amount of time… and this is just the beginning."