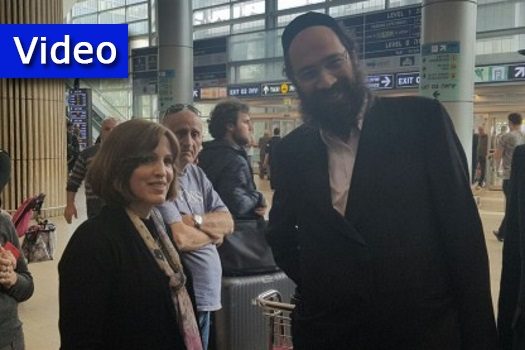 Frum Couple Held in Ukrainian Jail Freed
Pinchas and Channy, a newlywed Frum couple who were arrested and jailed in Ukraine after officials found drugs in their baggage – which they claim were planted by people unhappy about their marriage – were freed and are safe in Israel after much diligent work by Israeli officials, Jewish activists, lawyers and local Chabad Shluchim.
Israeli security forces say they have apprehended the people who are alleged to have planted the drugs in their luggage.
"We would like to thank all of you who stood by Pinchas and Channy from the time that they were framed, as has now been proven, in the Kiev airport on Dec. 27. 2015. You stood by them as they were falsely incarcerated for 17 days in prison, as well as throughout the following 15 months as this newly engaged and now married couple were trapped in Ukraine, away from both sets of their children.," read a statement from the couple's immediate family.
Most of their tremendous legal fees have been paid for. However, they returned to Israel without a penny or a place to stay, their houses having been needlessly and cruelly abandoned for well over a year.
Chany and Pinchas have both met with their kids. But there is a long road for them to return back to normalcy, they have yet to secure a place for them to live together as a family.
They need a permanent dwelling for them and their children. They need jobs and they and their kids need to recover from 16 months of personal terror and tragedy.
In short, Pinchas and Chany both still need our help. Their kids need it more than ever. We ask of you to once again give generously to help them rebuild. This time you are directly helping many. They were freed with your great help and each of you owns a great part in this most special act of Pidyon Shevuyim. Now they and the children need you to help set a foundation for their lives and to allow them to live together as a family.
The campaign to help them rebuild is here: https://fundrazr.com/615tYe.