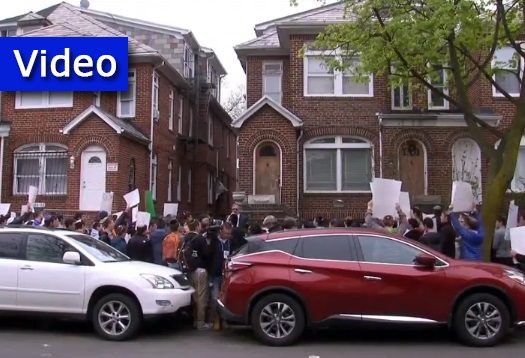 by Sandy Eller – VIN News
Close to 200 yeshiva high school students from Long Island turned out Monday on Holocaust Remembrance Day to demonstrate in front of the home of a 92-year-old former Nazi guard in Queens, demanding that he be extradited to Germany and forced to stand trial for war crimes.
The rally in front of the home of Jakiw Palij was orchestrated by students from Rambam Mesivta in Lawrence.  Palij, who came to America as a World War II refugee in 1949, lives in Jackson Heights and is the last known concentration camp guard living in the United States.
Rabbi Zev Meir Friedman, the school's rosh mesivta, said that the hour long demonstration began with an expression of gratitude to the NYPD and to the United States of America, noting that 70 years ago in Europe, police were considered the enemy while in America, citizens have both the right to assemble and the right to free speech.
More than just an opportunity to chant slogans, the rally had a clear purpose, explained Rabbi Friedman.
"We hope to get him locked up," said Rabbi Friedman. "The fact that this guy can walk the same streets we do, has police protection, fire protection and collects social security is an outrage. The focus here was on Germany's moral responsibility to take this murderer back."
Palij served as a guard at both Treblinka and Poland's Trawiniki concentration camp where more than 6,000 Jews were shot in a single day. In 2004, a federal judge ordered him deported, but the only countries where Palij could be sent, Poland, Ukraine and Germany, all refused to accept him.  Palij maintained his innocence, according to a New York Times report, insisting that he was taken by the Nazis when he was 18 and forced to collaborate with them and that he never killed anyone.
'We knew they would kill me and my family if I refused," said Palij. "I did it to save their lives, and I never even wore a Nazi uniform. They made us wear gray guards' uniforms and had us guarding bridges and rivers.''
Palij's denials rang hollow to Eli Rosenbaum, a Nazi hunter with the Justice Department, who said that Palij served with the Nazi regime until the final week of World War II, when many other soldiers had already deserted.
"He took part in the persecution of Jewish inmates at Treblinka and ensured that they could not escape, and the end result was that as many as 7,000 people were individually massacred,'' said Rosenbaum.
Rabbi Friedman said that numerous onlookers approached the students, asking them why they couldn't just leave the elderly Palij alone, given his advanced age.
"You can't just look at him like he is 92," explained Rabbi Friedman. "He murdered our people when he was 20. The way I see it he is a 20 year old who has gotten away with murder for the past 72 years.  He is someone who murdered 92 year olds, and who murdered people who never got the opportunity to live to be 92."
A letter read aloud by Congressman Joseph Crowley of Jackson Heights said that the idea that Palij is still living in the United States as a free citizen over a decade after he was ordered deported is "a complete and utter travesty."
"We cannot allow perpetrators of such disgusting acts to live unpunished," wrote Crowley, pledging his support in the battle for justice for Holocaust victims.
According to Rabbi Friedman, the rally sent a clear message that even 70 years later, there must be some measure of accountability for perpetrators of war crimes.
"We want Palij to know that we are not going away," said Rabbi Friedman.  "We are going to contact the bureau of immigration and try to get him out.  Germany is responsible to take him back and put him on trial, even if symbolically."
The demonstration was also an educational opportunity for students at Rambam, charging them with a mission of standing up and making their voices heard.
"We want our students to know that when something is wrong, whether it is anti-Semitism or another issue, it is important to confront it ," said Rabbi Friedman. "These young men are our leaders of tomorrow and they need to know that it is their obligation to speak out against injustice and hatred."
Yesterday's rally was not the first time that Rambam students have protested in front of Palij's home.  In 2013, students demonstrated at the same location in commemoration of the 75th anniversary of Kristallnacht as previously reported on VIN News.