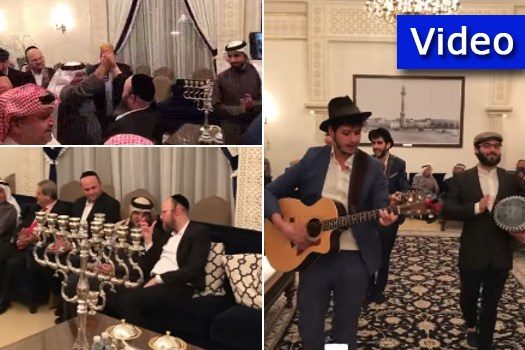 from VIN News:
It was a menorah lighting like no other, with a Chasidic rabbi dancing hand in hand with a kafiya-clad Muslim man in the tiny Persian Gulf country of Bahrain, located off the northeast coast of Saudi Arabia.
The Saturday night menorah lighting marks the second consecutive Chanukah gathering in Bahrain, reported Arutz Sheva.  Jews, businessmen and Bahrani citizens all participated in the joyous ceremony which included joyous singing and dancing and the lighting of a silver menorah, reportedly organized by American philanthropist Eliezer Scheiner.
Among those in attendance was a Chabad Shliach from Brooklyn, Rabbi DovBer Pinson, director of Chabad of Carroll Gardens and the Iyyun Center, and Rabbi Levi Bannon, Chabad Shliach to Morocco.
Estimates put the number of Jewish citizens in Bahrain, which has a population of 1.4 million, at just four dozen.
Speaking at last year's menorah lighting, the first Chanukah celebration in Bahrain since 1948, King Hamad bin Isa Al Khalid called for an end to terror in the Middle East.  Located approximately 1,200 miles southeast of Jerusalem, Bahrain is the only Arab Gulf state with a synagogue and had a Jewish woman serving as its ambassador to the United States from 2008 to 2010.
King Hamad vowed to allow Jewish residents of Bahrain the freedom to practice their religion without any fear of persecution, according to the Times of Israel.
"Here in Bahrain members of all religions live with no fear and we will continue to allow Jews to live peacefully and quietly, maintaining their lifestyle, their customs and the commandments of their religion without any fear," said King Hamad.
A video of this year's menorah lighting posted to Facebook yesterday currently has more than 12,000 views.
A statement from Hamas bashed the video, describing it as "a humiliating and disgraceful spectacle."  Hamas also called on Bahrain to "fully stop any form of normalization with the Zionist enemy."
Off to Israel's west, Turkish President Recep Tayyip Erdogan, released a holiday message of his own to Jewish residents, reported the Jerusalem Post.
"My best wishes for the Hanukkah festival of all Jews, especially the inseparable part of our society's Jewish citizens, with whom we have co-existed peacefully for centuries, and I wish them peace," said Erdogan.