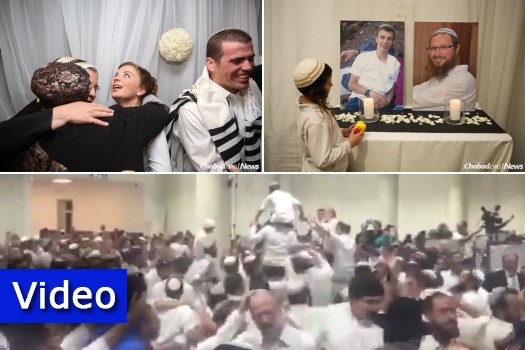 As thousands of well-wishers from around Israel and the world danced and sang outside the International Convention Center in Jerusalem, hundreds more inside could be seen crying bittersweet tears as they witnessed the marriage of Ariel Biegel and Sarah Techiya Litman, the young woman whose father and brother were murdered by terrorists less than two weeks ago.
From Chabad.org by Yaakov Ort:
Litman's father, Rabbi Yaakov Litman, and her brother Netanel were gunned down near their home in Kiryat Arba as they drove to a Shabbat celebration for the groom-to-be. During the shiva mourning period, the young couple decided to go on with the wedding after a brief delay, inviting people around the world to join them and fulfill the mitzvah of bringing joy to a bride and groom.
Hundreds from abroad immediately responded. Chabad on Campus centers conducted raffles that sent a group of Jewish college students to the wedding. At Chabad centers in Melbourne, Australia, and in Ottawa, Canada—and in a number of other cities in the United States as well—individuals participated in a chance to attend the wedding and send gifts to the couple.
Through the support of friends and donors, the ceremony was moved to Binyanei Hauma, the largest convention center in the Middle East. The wedding came as Jews are celebrating the Hakhel year, where unifying gatherings of Jewish men, women and children of all ages are encouraged, with an emphasis on learning Torah.
In fact, the center became so packed with well-wishers that around midnight, one of the family members tearfully asked if celebrants would volunteer to leave so that thousands who were waiting outside could join in the dancing.
Shortly after the ceremony, the bride and groom thanked all those who came to share in their happiness and addressed the enormous crowd that had come to support them.
"Up until two weeks ago, no one knew or was interested in me and Ariel, and then in one moment on a Friday at the peak of our wedding preparations, my dad and my brother were murdered by a cruel terrorist," said Sarah Techiya Biegel.
"There isn't a moment that I don't miss Netanel's smile, or my father's humility and modesty, and that will always accompany me," she said. "But precisely from the pain we are experiencing in this month of courage before Chanukah, we will, together with all the nation of Israel, spread the great light of joy, giving and love that the nation of Israel has inundated us in."