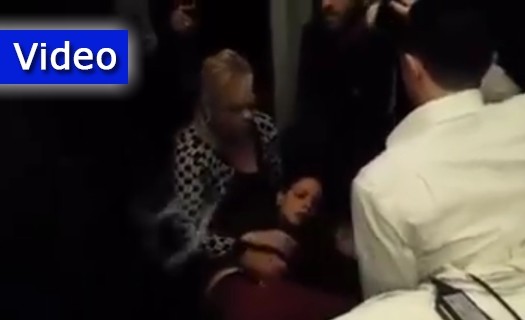 Israeli Woman Claims to Be Possessed by 'Dibbuk'
An Israeli woman recently entered a synagogue in the city of Elad claiming she is possessed by a 'Dibbuk.' A 'Kabbalist' who took up the task of extracting the 'Dibbuk' claims that he has communicated with the spirit, which purportedly identified itself as the soul of a man who committed a murder 70 years ago.
Yeshiva World News reports:
Correspondent Yehuda Schlesinger reports in Yisrael Hayom that a woman in Elad claims she is possessed by the Dibuk. The Yabia Omer Beis Medrash in Elad over recent days has attracted many residents who wish to get a glimpse at the woman inside, claiming she is possessed.
According to the report, the beis medrash has difficulty getting a minyan on a regular day but in recent days there have been dozens appearing for shachris amid reports the woman is inside the shul, where they are trying to get the Dibuk to leave her.
The story began six weeks ago when a Holon resident turned to a number of notable rabbonim explaining she is possessed. According to one of the mekubalim involved, the dibuk entered via her mouth. The woman and her husband were sent to the rav by an avreich whom they know.
On Tuesday 22 Sivan and the previous Tuesday the woman and her husband arrived at the beis medrash for a special tefilla that included blowing shofaros and reading the names of Malachim. This special minyan was led by a rav, with Schlesinger explaining those present explained "It is difficult to see a woman sitting in the middle and a man's voice emanating from her".
He adds the rav spoke with the dibuk and he now knows who the dibuk is, citing a person who murdered someone seventy years ago and he is now seeking mechila. One person quoted who believes this is legitimate adds "She knows the identity of the niftar and now speaks in his voice. One cannot make light of this. We tried getting the dibuk out for some time, threatening to send him to Gehenom".
It is further explained an effort was made to remove the dibuk via a toe, which then swelled and then it was seen rising to the throat as the body swelled like a balloon compelling the body to move. The rabbonim have turned to unnamed mekubalim seeking assistance in the matter.
הוצאת דיבוק מאשה

Posted by ‎שוקי שיינפלד‎ on Wednesday, June 10, 2015