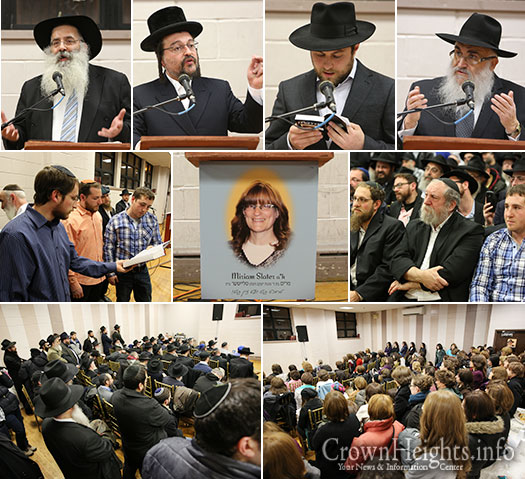 An overflow crowd gathered last night in the Hall of Lubavitcher Yeshiva on Crown St to celebrate the life and achievements of a true baalas chesed, Mrs. Miriam Slater, OBM, a quiet and unassuming longtime resident of Crown Heights, who dedicated her life to helping as many people, Mosdos and organizations as she was able to.
The Shloshim gathering was chaired by Rabbi Lipa Brennan, a close and personal friend of the Slater family, who gave an insight into the life of Mrs. Slater and her many accomplishments.
The evening began with Tehillim for the safety and security of all Jews in Eretz Yisroel, for those who need a refuah shlaima and for Sholom Mordechai Halevi ben Rivka. Tehillim was recited by Rabbi Aron Cousin, a noted educator and friend of the family.
Rabbi Brennan began by quoting from a Sicha of the Rebbe, which was said at the Shloshim of the Rebbetzin in 5748, about the different stages of mourning, beginning with the Shiva, then the Shloshim and then the Yahrtzeit, and explained how a person gains strength after passing through each new phase from the posuk of Vehachai Yiten El Libo.
He told a story about Rabbi Sholom Ber Gordon, the veteran Shliach of the Frierdiker Rebbe and the Rebbe in Maplewood, New Jersey. Rabbi Gordon always referred to himself as a "self-made man," being that at the time of his Bar Mitzvah he was in Yeshiva far away from home and his parents sent him a pair of Tefillin for his Bar Mitzvah, but could not be together with him on his special day. He put on the Tefillin himself without all the hoopla associated with a Bar Mitzvah, and so he termed himself a "self-made man."
Rabbi Brennan likened the story to Mrs. Slater who was also "self-made," moving to Crown Heights from Connecticut with her husband Michoel sheyichye after their marriage and establishing herself as a dedicated mother, teacher and volunteer for many of our community's Mosdos and organizations.
Dovi Slater, one of Miriam's sons, made the Siyum on the Mishnayos, followed by the recitation of Kaddish by all her sons. Dovi then shared with the audience some anecdotes from the life of his mother, stressing the fact that at all times her family was her main concern, and the efforts she put in to ensure the finest education for them all through the years. Dovi asked everyone to accept upon themselves this unconditional love for their families, and to try to bring peace amongst their families and friends.
Next to speak was Miriam's brother, Larry Lambert, from Connecticut, who told also of his sister's love for her family and helping out whoever needed a hand. She was known to attend weddings and take pictures at the chuppa and present them to the Choson and Kallah as a gift.
One of Miriam's most outstanding accomplishments that continues to bear fruits to this day is the involvement she had in establishing a special class for students who needed that little bit of extra encouragement.
This endeavor began over sixteen years ago, and together with a few other parents she took the lead in raising the funds to pay the teachers and was the inspiration that carried this class from its beginnings in the Shain Shul to becoming part of Lubavitcher Yeshiva.
One of the earliest teachers at that time was a young married man just beginning to develop his skills in education. Rabbi Boruch Jacobson then came to the podium and shared of his recollections how he came to know Mrs. Slater and how he began to work for her. He told of her keen insights into Chinuch, many of which he continues to utilize in his Shlichus with great success to this day.
The guest speaker of the evening was Rabbi Yaakov Klar, the associate director of the crisis Intervention team at Chai Lifeline. Rabbi Klar discussed "how to provide Chesed for people in need." During his very informative and uplifting speech, he gave tips and guidelines to those dealing with situations of emotional stress.
He quoted from the Rebbe's first Maamar, Bosi Legani, noting that the Rebbe told a story of an act of Chesed from each of the Rabbeim. This is how important Chesed is and how Mrs. Slater excelled at it, and led us all by example.
The evening concluded with all the participants taking upon themselves new good deeds L'iluy Nishmas Miriam bas R' Moshe Yaakov Hakohen Slater.
The event was broadcasted live here on CrownHeights.info, with over 300 tuning in. The broadcast was made possible thanks to Apple Drugs. An archive of the broadcast is available below.