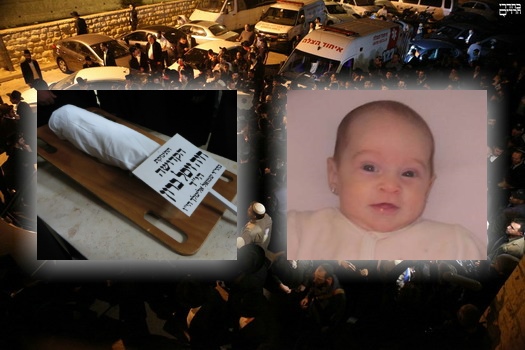 Murdered 3-Month-Old Laid to Rest
On Wednesday night, Hundreds attended the funeral of Chaya Zisel Braun, the three-month-old baby who was killed earlier in the day when a terrorist rammed his vehicle into her family as they disembarked from the Jerusalem Light Rail.
Among those who participated in the funeral were Israeli President Reuven Rivlin, Chief Rabbi of Jerusalem Rabbi Shlomo Amar and Jerusalem Mayor Nir Barkat.
Seven others were injured in the terrorist attack, including the baby's father, who is hospitalized in serious condition.
Jerusalem Post: Baby Was Born to Parents After Years of Waiting
The grandfather of an infant who died after a car rammed into civilians near a light rail station in Jerusalem addressed reporters outside of the hospital on Wednesday night, saying that the baby girl was born three months ago after her parents had tried for years to have a baby to no avail.
"They had just returned from the kotel (Western Wall). It was the first time in her life that the girl was at the site. She looked at the kotel, they took pictures, they [her parents] held her up to face the Temple Mount, and they told her this is the holy place, this is the temple mount," Shimshon Halpern said.
He said that Chaya and her parents were on the sidewalk when the car sped up and hit the baby stroller, sending the infant flying 10-20 meters in the air and landing head first on the pavement, causing her massive cranial bleeding.
Photos courtesy of Behadrei Haredim