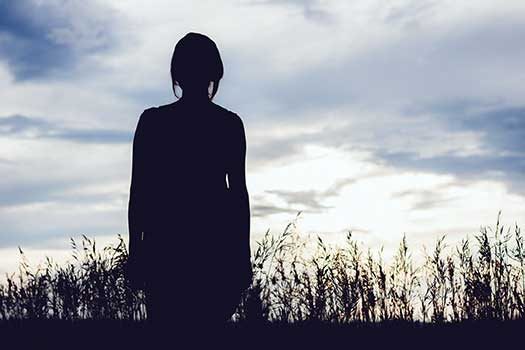 Illustration Photo.
by Rabbi Sholom DovBer Avtzon
It is now almost three years that I began writing and posting a Weekly Story. None of them have triggered so many comments of thanks, curiosity as well as some skepticism as the chronicles of Malka, initially posted under the title "You Were Not Abandoned."
To set the record straight, I have never knowingly met or spoken to her. Everything is through the numerous emails. So yes, I too was sometimes taken by surprise as her story unfolded. When it came to the difficult halachah questions, since I am not a Rov, I forwarded them to Dayan Raskin of London who graciously responded.
How did we it all begin?
In the close to one hundred fifty stories which I posted, they have been comments both on line, as well as to me personally, thanking me or correcting me, and I appreciate both of them.
Over a year ago I wrote a story about Reb Simcha Goredetsky titled IF THE REBBE SAID SO IT IS SO.
After Shabbos I received the following email:
I was reading this story online and I am troubled by the accuracy of the story:
The mother had written a letter to the Rebbe and fabricated a story.
She wrote lies about the Rabbi Simcha Goredetzky and his school.
The Rebbe reacted to her fabricated lies and wrote to the rabbi, "How is it possible that students are beaten in your school?!!"
Does that mean the Rebbe was mekabel loshon horah from the mother about the rabbi and his school?!
I am lax in many areas of Orthodox observance but I have greatest respect for the Rebbe.
I also was taught that accepting words of loshon hara as true facts – is a major sin.
This story tells us that the Rebbe did this sin – he accepted the loshon hara fabricated (or even true) story of this mother against the rabbi and his school?!
I am not accepting of this story as accurate, because if I would, I would be believing the loshon hara of this story about the Rebbe.
That I simply cannot tolerate!!
Sorry, but I find this story fiction and it also delivers a bad message!
Mellisa
So why did she contact me? This was not the first story of mine posted that she read and perhaps had issue with, but only because of her fierce respect of the Rebbe, and she was demanding that I apologize to the Rebbe. Yet, she did not wish to "attack me" publically, so she sent it directly to my email.
I responded, explaining that the story stated, that the Rebbe felt, even though the mother fabricated it by exaggerating and making a mountain out of a nothing, nevertheless, the Rebbe was saying, that while you considered your actions of discipline appropriate, the child and parent, were hurt and that itself has to be rectified.
She questioned my response and we had a back and forth through numerous emails.
Only then, as an expression of thanks for clarifying the issue and answering respectfully, did she decide to share her connection to the Rebbe with me. It was the exact title I used, If the Rebbe said so, it is so. How the Rebbe informed her of who her birth parents were, how they passed away and where they were buried, even though she only was allowed to open her adoption papers twenty years or so later. So yes IF THE REBBE SAID SO, IT IS SO!!!
But at that time, she only informed me of her one and only yechidus in the Rebbe's room, with the understanding that I keep it to myself. But subsequently allowed me to publish it under her Hebrew name Malka, which no one knows of, as she goes by her secular name.
Some weeks later, I took the liberty of wishing her a freiliche Purim and we once again debated certain points, but then she stated, "as a gift to the Rebbe, I have decided to give shalach monos for the first time in many years."
However, the problem was, being that she is in a non-Jewish area, what could she give. But she found on the internet on a non-Lubavitch site, that the Rebbe writes in Likkutei Sichos vol. 2 p. 537 that cake and soda water is good. So although, according to most opinions, a bottle of fancy water, cannot count as one of the two items, the Rebbe writes that soda can be considered one of the two items, and that is what she did, buying a cake with a ou kosher certification on it. She traveled over fifty miles to the closest Jewish community to deliver that shalach monos!
So her intention was never to reveal her life, as her privacy is paramount to her, but out of appreciation she informed me of it, to publicize a side of the Rebbe's greatness that would have remained unknown. This in itself took tremendous strength as it was extremely painful for her to go back and think about, or better said relive her extremely difficult experiences; losing both sets of parents, before she was twenty, the break up of her engagement, because the chosson was a Cohen who couldn't marry her as she underwent geirus misofeik, just to name a few.
Throughout this time she relayed additional information which was posted as the first five parts of that series.
She then asked me if I am interested in the Hayom Yom that the Rebbe gave her.
Looking at the picture of it, I realized this was one that the Rebbe personally used for many years, and replied that the Rebbe gave it to her to use until 120. I then added, look inside and you will definitely see an instruction or guidance for you.
The next day she replied, Thank you, I found on the entry of the 8th of Tishrei seven [Hebrew] words underlined, the translation of those words are, "They concealed themselves and if they were revealed they were pained."
When I asked her to allow JEM'S My Encounter to interview her, she responded
The underlined Hayom Yom was discovered just before such suggestions were being made.
Clearly it was a message "hidden" until I began contemplating the potential benefit of contributing to the greater good of the public by sacrificing my individual comfort zone of privacy. It was then the guidance of the message from decades ago was discovered and it became relevant.
I am reminded that my adopted Father once told me a story about the Baal Shem Tov story:
The BST gave a sealed letter to a rich donor to deliver to someone in a certain town. The rich donor placed it in his jacket pocket and completely forgot about it. Years later this rich donor lost his entire fortune and became so poor that he even needed to sell this very jacket. He then found the sealed letter. By then the BST has long passed on. The donor was distraught that he failed in his mission but figured he will try to see if he can still deliver the letter. When he found the addressee, it was a letter stating that the donor became poor and is worthy of assistance. The addressee helped the formerly rich donor get back to financial stability.
The story shows that hidden messages, like forgotten letters, are revealed EXACTLY when they need to be.
I am certain of this!
In her eyes, this is like the long lost letter of the Baal Shem Tov that was delivered some twenty years late. Just this one was closer to forty years late. Based on her understanding of this directive, she refuses to be interviewed by JEM, as she doesn't want her face publicized.
I replied; if that is the Rebbe's wishes, then the Rebbe should have only underlined the first part. Since he underlined the second as well, that means although it may be painful to publicize certain aspects it should be done.
Based on my counter argument and something Rebbetzin Chana told her, the compromise was that I have to make the weighty decision, of what is beneficial in practical means, not just out of satisfying the curiosity etc.
So yes, she lights Shabbos candles, but is it anyone's concern how early she does it in order to add on from the weekday to Shabbos. This she chose to do on her own and it is private.
But yes, as our correspondence continues, I too learn more of the Rebbe's greatness and his insights.
So my dear readers, that is why I believe her. She corrected me but for the Rebbe's honor. While she was extremely strong about it, she did it with graciousness, not in an insulting manner. She shared information that Rebbetzin Chana informed her of concerning beis harav, that I heard from my father and it isn't commonly known. There are other points that she related to me, which almost no one is aware of, that I have been able to corroborate. She has every reason to continue her private life, and indeed that is her desire, but to inspire others about the Rebbe she gave it up to a certain extent.
Now concerning her name, this is what she wrote.
Adopted parents [who were extremely frum and learned] named me Malka, without knowing that my Birth parents named me "Melissa". (Which in itself is astounding that there are some similarities in both names – both begin and end with same sounds: M & A, only the core is different – life begins and ends the same for all, only the core changes due to our actions). After discovering my real name [in my mid thirties], which is the only tangible thing I have from my birth parents, I chose to go by that name and I refused to abandon it.
The Rebbe was not very pleased when he heard that I use the name Mellisa and not my "real" name Malka, but he never insisted that I stop using the secular name. Instead, he pointed out that name "Melissa" is connected to Greek Mythology and their Avoda Zara.
Because I insisted to keep and use my secular name, the Rebbe's suggestion was to alter it slightly from the norm.
The common spelling is Melissa with one L and two S.  The Rebbe suggested that when writing my secular name, spelling it with 2 L and one S. Thus "Melissa" became "Mellisa".
When the suggestion was made, he said, instead of a name connected to Greek Avoda Zara, my secular name is that of a healing herbal plant in the mint family whose leaves grow in opposite pairs and are heart shaped.  A name is not just the vocalization of the name, but the spelling and written form of a name has halachic precision and validity, as seen by a Kesubah and Get.
She concluded that email, Maybe this should be shared for people that insist on using secular names, if the name is related to impure sources (as many are) they should maybe consider altering them, even slightly, even if only in written form, into something positive.
Knowing that if I post this as is, I will be fact checked, I did some research myself and find out that the mint herb is also spelled exactly like the avoda zora, I asked her for clarification.
She replied
The intent was to change the spelling from the Greek Mythology source.
The new spelling was to make a change and break from the common connotation of the name – make a "shinuiy".
The newly spelled name need not be "correct" – it could be a variation (like most names are) as long as it moved away from the negative meaning. Additionally, the "new" altered name was to have a positive meaning connected with nature and healing.
Here, when applying a new meaning, the "correct" spelling no longer mattered, after all, some may spell even a Hebrew name differently but the meaning is same, as I soon discovered.
When the Rebbe told me the concept very casually, I was skeptical and researched it. It didn't make sense that a slight change in the spelling of a name removes negative connotations, especially if the name remains the same!
As a researcher, when I come across an anomaly which deviates from the norm, I have a methodology which begins with seeking if there are any formerly reported precedents.
To specifically make a slight change the spelling of my name can be considered an "anomaly". To make such a change only in the written form deviates from standard "shinuy ha-shem".
I am trained in is to seek precedents.
Was there ever such a change to a name only in the written form and not in the vocalization?
If it is out there, I will find it.
And I did. I found it by the name Avkiva and yes the Rebbe is 100% accurate.
Next step – what was the purpose and goal of the name change, and did it succeed?
Chassam Sofer writes that if giving a name that was  a name that was associated with a tragic life,) it suffices to make a minor change which is why people spell Akiva with a hei to remove the kepaida of giving a name after someone who died tragically. The name is still Akiva, it vocalized exactly the same, but by altering the spelling it is freed from the negative connotations.
Same applies when changing Melissa into Mellisa.
This Chassam Sofer is cited by Rabbi Feinstein in Igros Moshe, Yoreh Deah vol 2, s. 122 that brings from the Chassam Sofer s. 28 since the name Akiva we use is connected to Rabbi Akiva the Tana, many change the spelling to a hei at the end, even though the Talmud has it spelled with an alef, in order to make a small change – "shinuy ktzas", because Rabbi Akiva was killed. Thus, says Rabbi Feinstein that a minor change in the spelling of the name removes the "kepaida" – negativity.
You might not have easy access to the quoted source, so here it is:
http://hebrewbooks.org/pdfpager.aspx?req=919&st=&pgnum=192&hilite=
Last paragraph:
http://hebrewbooks.org/pdfpager.aspx?req=919&st=&pgnum=193
The Chassam Sofer is here:
http://hebrewbooks.org/pdfpager.aspx?req=14665&st=&pgnum=221&hilite=
Fourth paragraph.
She concluded
The Rebbe knew EVERYTHING. Whatever he said, was accurate.
The reason she agreed to publicize this is to show, how every word of the Rebbe, is correct. As she wrote "While we may not understand it and indeed it totally does not make "sense" to us, that doesn't change the fact."
In Conclusion:
While I posted this background history to clarify a lot of questions, I ask and request, please respect her wishes of allowing her to maintain the space she deems necessary. Almost everyone who comments does so without posting who they really are and hide behind their first name or a pseudo name etc. so just as you desire to remain anonymous, respect her desire as well. For as stated, the column is not about her, but to gain a glimpse of the Rebbe, which was unknown, and to follow his guidance, which although may have been said to her, nevertheless it is pertinent for all.
The only personal point I can share is, that she moved away from a Jewish community in a time of extreme hurt and anger. Her family was ripped away. At the same time she is pained to read about how some children in their time of hurt move away and rip themselves apart of their own family.
Family is the biggest blessing, and lack of family is isolation. Yes, they are issues of pain and friction, but please try to resolve or bridge them.
Being that this is being posted in the week of chof Av, forty days before Rosh Hashanah, in the name of all the readers, I take the opportunity to wish Malka [yes, she still takes pride in her Jewish name] L'shana tova tikuhseivi v'serchyseimi, gezunte uhn langa yuhrin, ad bias Moshiach Tzidkeinu.
Next week, how the Rebbe explained to her that Mezuzah is connected to Shabbos.
Rabbi Avtzon is a veteran mecxhanech and the author of numerous books on the Rebbeim and their chassidim. He is about to publish vol. 6 in the EARLY CHASSIDIC PERSONALITIES series, a 224 page (or more), on the noted Chossid Reb Binyomin Kletzker. He is available to farbreng or speak in your community, and can be contacted at avtzonbooks@gmail.com