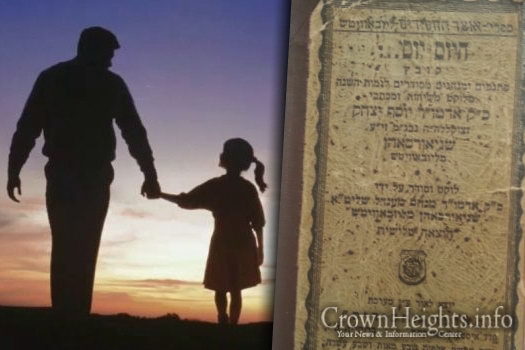 Weekly Story: The Rebbe's Gift
For this week's story, Rabbi Sholom Avtzon returns with a 7th installment of the story of Malka, the orphaned girl who thought that she had been abandoned, but whom the Rebbe showed that she was not.
Click the following links to read You Were Not Abandoned Part 1, Part 2, Part 3, Part 4, Part 5 and Part 6.
by Rabbi Sholom Avtzon
In 5703 (1942), the Rebbe published his first sefer, HaYom Yom a collection of Chassidic sayings, thoughts and customs. While the simple reason was to show how the Tanya was divided and to be learned throughout the entire year, as part of Chitas (Chumash, Tehillim and Tanya), the Rebbe added a saying to each day. When the Rebbe gave someone the above captioned Hayom Yom – as you see it – he said – something to the affect, but I don't know if these were his exact words; "Each day we need to service Hashem in a unique manner as explained in Toras Hachassidus".
During the past year, I posted certain chronicles of Malka's interactions with the Rebbe. In my conversations, all via email, I mentioned that perhaps she should obtain the sefer Tackling Life's Tasks, which has a running commentary of the daily sayings in Hayom Yom.
She replied that she is aware of the sefer Hayom Yom and reads it on chabad.org and then shared with me the following insight about its message.
I will share an insight/observation with you, that is probably unknown or overlooked.
There are various segments of observant Judaism with conflicting customs and laws (sefard,  ashkenaz,  chassidic,  Litvish,  and many sub-groups). Nearly every area of observance has some differences based on the segment and the authorities they follow. It may just be in the vocalization of the words, a change in the order of some words or sometimes there are major differences, as we see the differences in Shulchan Aruch, between the Beis Yosef and the Rama, or in gemora between Beis Hillel and Beis Shammai, etc.
There is only one area that ALL Jews, observant and not yet observant agree on. Do you know what it is?
Every Jewish calendar no matter who publishes it ALWAYS begins from Rosh Hashanah, Tishrei 1.
The Rebbe broke ground by establishing the first ever "calendar" which begins with a different date, his begins with Kislev 19. This was a "revolutionary" breakthrough!  The publishing of a "new" calendar. A new beginning. A new way of making each day count.
That was the innovation of the Hayom Yom.  Not merely a collection of sayings and thoughts but a new calendar to signify a new era. The Rebbe is telling us that the year begins anew, when we resolve to begin to live with something new. Then each day has something new to live with. A new year without a resolve to begin anew is not enough.
I don't know if I was permitted to share this but it is words of truth.
In subsequent exchanges, she sent me the following message, "You might be interested in these."  And attached to that email was a picture of a Hayom Yom and a mincha maariv (see below). She then confirmed my thoughts that the Rebbe gave them to her personally, and when he gave the Hayom Yom, he said the above mentioned statement.
Looking at the cover of the Hayom Yom it was obvious that it wasn't one that came out of the warehouse or store, rather, it was the Rebbe's personal one, the one he evidently had personally used for many years, to the extent that it was rebound and duct taped on the sides. So thinking of the story of when the Rebbe gave a Tanya to Rabbi Pinchas Teitz to take to Russia, I told her that there is definitely a message there for her from the Rebbe and she should find it.
The following day she replied;
Thank you.
I followed your suggestion and meticulously examined the entire Hayom Yom.
There were no notes at all. But I found one odd thing, which might be a message from the Rebbe to me. At the passage for Tishrei 8 there are six words underlined (in pen): "mastirim atzmom v'im hisgalu hoyu mitzta'arim" (would conceal their righteous actions and they were distressed if they became revealed).
When I emailed this weeks' article for corrections etc., she initially responded:
I am concerned about publishing the picture of Hayom Yom – because that specifically stresses the idea of privacy.
I replied:
It is your call
Although I feel that a) this will remove all doubts  b) this is a demonstration to the extent of what the Rebbe expects us to give of ourselves and most importantly c) it will show the importance of not just reading the Hayom Yom but of studying it.
The Rebbe was the author
He knew what he wrote
But he opened it and studied it every day
That can only be told if you see how it is taped and rebounded etc.
Her response was:
To teach and inspire others overrides personal considerations and comfort zones. I reluctantly agree with great trepidation. If I am wrong in allowing this to be publicized, my wrong is with best intentions and I should be forgiven.
So while she is extremely careful about protecting her privacy, and she notes that the Rebbe indeed acknowledged the aspect of concealing oneself, however, being that the Rebbe also underlined the remainder of the thought and were distressed if they became revealed, she has allowed me to publicize and reveal certain aspects that can benefit the community at large, even if it is at a cost to her privacy. WITH THE HOPE, that it will inspire us, not to merely read the thought but to contemplate and reflect on it, as is evident that the Rebbe himself did so!
On another occasion the Rebbe gave her a mincha maariv and told her to use it for Mincha, saying as a blessing, "Eliyahu's prayers were answered at mincha so too your tefilos at mincha should be answered" After finding something underlined in the Hayom Yom, she also carefully went through the mincha maariv and wrote:
I also examined the Tefilas Mincha u'Tefilas Arvis. I found what might be a message to me. At the end of the mini-siddur there is the Torah Reading for Public Fast Day followed by the Haftorah. The entire last possuk of Haftorah is also underlined (in pen): "Ne'um Hashem mikabetz nidchei Yisroel od akabetz olov l'nikbatzov" (so says Hashem, who gathers the dispersed of Israel; I will gather others to him, besides those already gathered).
May we all indeed merit being part of the kibbitz golious, speedily in our days.
Rabbi Avtzon is a veteran mechanech and author of numerous books. He is available to farbreng in your community and can be contacted at avtzonbooks@gmail.com.
See you in Teaneck, New Jersey this Wednesday, eve of Yud Tes Kislev and on Thursday in Norfolk, Virginia.