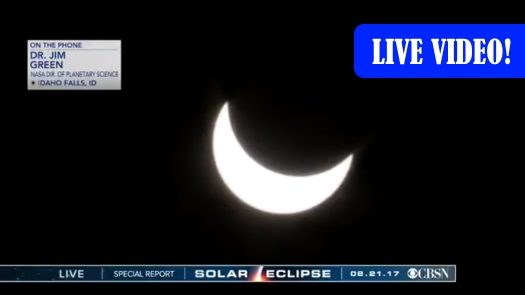 After receiving many inquiries about whether there is a Brocho to say when seeing today's solar eclipse, Rabbi Levi Gorelik responds:
The Rebbe was asked this question in 5717 (1957) [see Igrois Koidesh vol. 15 page 260], and the Rebbe responded that a Brocho is not said because we do not say a Brocho which isn't mentioned in the Gemoro.
[The Rebbe continues with a lengthy explanation as to why it is not mentioned in the Gemoro. Additionally, there is a long Sicha from the Rebbe regarding eclipses in the beginning of Volume 15 in Likutei Sichos].
Safety Reminders from CrownHeights.info: 
Please ensure that if you will be outdoors during the eclipse that you or your children do not look up at the sun, since it will not hurt the eyes like regular sunlight does, but can still cause irreversible eye damage and even blindness r"l.
If you have a baby in a stroller, please ensure that the stroller is facing in the opposite direction.
Sunglasses (even several pairs combined) will not protect your eyes from being permanently damaged by the sun's rays.
If you do not have certified eclipse glasses, you can watch the eclipse by turning on your phone's selfie camera and watching it on your phone's screen while facing in the opposite direction of the sun. Alternatively, the eclipse can be viewed live in the video below.
Wishing all out readers a safe afternoon, and a Ksiva Vachasima Tova.