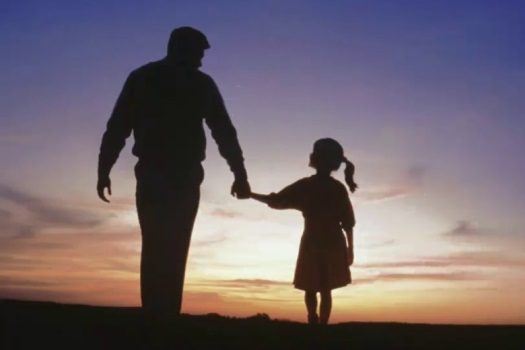 Weekly Story: You Were Not Abandoned, Part 5 (Finale)
Continued from last week – You Were Not Abandoned, Pt. 4
by Rabbi Sholom Avtzon
As this Sunday is Lag B'Omer, a day that is synonymous with Ahavas Yisroel, I am sharing with you the following dialogue that Malka engaged the Rebbe in, on Ahavas Yisroel. [In a sicha on the 29th of Elul 5736/1976 (which was presented last Motzei Shabbos on The Living Torah by JEM) the Rebbe says he was asked this very question].
I received the dialogue from Malka some weeks ago and I informed her that I will post it this week, in connection with Lag B'Omer.
However, before I quote her, I would like to write an introduction to this segment, which for the time being is the finale in this series of the Rebbe's directives and sayings to Malka. As I feel I have to clarify a few points.
These articles were shared by Malka, not by her initiative nor her desire to receive any publicity, a point that she clearly is not interested in, but they came from my own communications with her to explore the memories of her interactions and discover her deep connection to the Rebbe. I requested, and eventually she allowed me to publicize certain things, only for one reason, and that is, in order to give us an insight in the Rebbe's greatness in his Ahavas Yisroel and in so many other aspects.
Yes as noted last week, there is a paradox in some aspects of her life, but we are not here to scrutinize her conduct in her self-imposed exile to a "spiritual Siberia", it is rather, as so many of you noted, a series of lessons from the Rebbe that are as applicable today, to all of us, just as it was decades ago, when the Rebbe said them to Malka.
So please respect her utmost desire of privacy, just as you would not want personal tidbits of your life to be posted on the internet. Remember that Malka was not brought up Lubavitch, nor does she consider herself a Lubavitcher in any way (e.g. her siddur nussach is not Tehilas Hashem) – her only connection to Lubavitch is the Rebbe.
As you all see, the majority of the readers are convinced as I, that everything noted is true. But some questioned certain points. And I will address one of them.
Malka asked me if I can guide her on making an eruv around her backyard, as well as the question of how a hammock should be connected to two sturdy trees, in order that she can use it on Shabbos, to relax and read. Being that I am not a Rov, after clarifying certain details myself with her, I forwarded those two questions to Dayan Raskin in England. In a series of emails after further clarifying exactly the terrain of her property, he advised her on which segments an Eruv can be made using the natural boundaries etc., and that she connected her hammock properly, as it was connected to a hook that was connected to a metal ring around the trees.
Finally, I had hoped that the auspicious time of Pesach Sheini would inspire Zahava to respond with a willingness to meet, as she so eloquently noted in her first comment last week, that Pesach Sheini is an invite to one who was distanced for whatever reason to come forward. So Zahava please contact me at avtzonbooks@gmail.com and not just through your thoughtful insights on the comment section. Just imagine what would have happened have you met and then realized that you are old acquaintances?! Divine Providence brought you both to an opportunity of a reunion but left the choice in your hands. Please choose the path of achdus, to reunite with Malka in the spirit of Ahavas Yisroel.
Now for Malka's recollection of what the Rebbe said about Ahavas Yisroel:
The following is very unclear to me, it took place decades ago, but seems important to share.  I will write it to the best of my recollection and understanding. I hesitated to even share this because I might have misunderstood some of the conversation but I am sharing based on my understanding and recollections. For whatever it is worth, here is the third vivid memory: [The previous two were about Pesach Sheini which was last week's post and about the power of Music, which was posted before Pesach].
The year after the Rebbe added the new Mitzva campaign of Ahavas Yisroel (I do not recall the year) [it was 1976 -SA], I had the nerve of asking him, "Rebbe, all the other Mitzva campaigns are practical mitzvos – a practice of a specific mitzva, but this new campaign of Ahavas Yisroel is basically theoretical and generalization without any specific act in mind?"
The Rebbe looked very surprised and said something like, "Theoretical?! Since the 6-days of Creation Hashem is busy making shidduchim. The practical application of Ahavas Yisroel is to help make shidduchim." (I am unsure of the exact answer but this is my understanding).
I asked, "Isn't shidduchim just another among many types of chessed?"
He answered something like, "No, Chazal tell us that the entire reason a man and women must meet before they marry is V'Ahavta L'rayacha Komocha – a shadchan helps facilitate this meeting." (I am unsure of the exact meaning of his answer, but this is my recollection).
I asked jokingly, "So you want all chassidim to become matchmakers?!"
He became very serious and replied something like, "The first chosid of a "Rebbe" was Eliezer, the servant of Avraham. His defining legacy was being a shadchan, making a shidduch! Making shidduchim is the truest expression of Ahavas Yisroel and of being a chosid. It allows humans to partner with Hashem in His Holy work of making shidduchim. It helps bring down the souls needed to hasten Moshiach. And for the shluchim it will help combat the ravages of intermarriage which does the opposite of hastening Moshiach. Those that involve themselves in this Ahavas Yisroel will be blessed with abundance of success, material and spiritual wealth. That is a practical expression of Ahavas Yisroel that hastens Moshiach, a time when the possuk says: Od yishoma  kol chosson v'kol kallah – a refrence to shidduchim" (Again, I am really unsure of the exact words or message but this is my understanding).
I asked/commented, "But not every chosid has the ability to be a shaddchan! Some don't even know how to do it! They have no experience with making shidduchim! They wouldn't even know how to begin!"
He responded, "Do you think Eliezer was an experienced shaddchan? Not at all. But he was a chosid and he knew he needed to become a shadchan, so he prayed that Hashem should help him. It worked for him, (Rebbe smiled) and he made a good shidduch for Yitzchok. With prayer, everyone can and must become a shadchan. That is the practical application of Ahavas Yisroel."
Although I put "quotations" – these were for sure not the EXACT words and I am really unsure if those were the meaning of his words – this is merely what I understood.
My own thoughts: This was well before the concerns over "shidduch crisis" or the current extreme high level of intermarriage. In hindsight we can see from this the far reaching foresight of a true leader who sees and plans ahead and preempts solutions, and it is all part of his master plan to hasten the coming of Moshiach.
Malka
***
After last week's segment was posted, there were some comments where some people asked how they could contact her, and others responded that they should do it through me. I asked Malka if she would allow me to forward inquires to her, and this was Malka's response:
You may answer them publicly (since there might be some who are too timid, overwhelmed or ashamed to reach out):
I am neither a role model nor a counselor.
I myself have more questions to ask than answers to give.
Yet a drowning person clutches at any straw in the troubled waters hoping that it can save. I am that straw which cannot rescue.
But how can one stand by idly and watch the suffering of our brethren? Can I ignore the hand of a drowning person?
To those who have pain, all I can do is weep with you as we mourn together in your personal suffering caused by Exile.
When a child is troubled, the child is in pain. That pain is internal, the soul is hurting, and the child may or may not even be aware of it. When a child is in pain, it is alone, abandoned, overwhelmed, desperate to numb the pain, seeking to "escape" by cutting off all that are around him/her.
Yet, herein lies the solution – when alone, it needs another, to love, to comfort, to share the lonely pain.
I once asked my Morah during Shiva [after the loss of my last adopted parent], what is the point of visiting a mourner who is suffering a tremendous loss over which there is nothing that you can do? How are you comforting me by visiting me? My Morah answered me that the comfort is just by being there and sharing in the pain. She hugged me and together we cried and cried. For those moments the pain became somewhat less unbearable. My Morah could not bring to life those that are gone, but she could let me know that I am not alone.
I am not alone in my challenges. No Jew is alone in their individual and private challenges.
The story about me is called [by Rabbi Avtzon]: You Were Not Abandoned. The illustration given, is of a Father holding His daughter's hand as He guides her towards the sunrise. We were not abandoned and Hashem holds our hand as He guides us out of the dark night towards the sunrise of Moshiach.
No prayer goes unheard and no tear is forgotten.
We are not alone in our suffering because Hashem hears us and is close to us. But we must call out to Him in Truth.
Hashem bends His ear to hear us on the day that that we call Him (Tehillim 117:2). Hashem is close to all that call out to Him, to all that call out in Truth (Tehillim 145:2).
One day soon Hashem will also keep His long overdue promise of taking us out of this terrible Exile and erase all our tears and remove the shame of our nation from the land [as the navi says] "Umacha Hashem Dim'ah Me'al Kol Ponim; V'cherpas Amo Yasir Me'al Kol Ha'aretz" by soon sending us Moshiach, "Ki Hashem Diber," because Hashem has promised to do so.
We are all suffering as we mourn the destruction of Tzion and Yerushalayim but we console ourselves knowing that together in unity we will soon see them rebuilt and darkness come to an end.
If your child is troubled, demonstrate to that child, not in words but in actions, that she is not alone. No Jew is ever alone. We were never abandoned.
I write this from my heart which is filled with love for my people,
Malka
In a subsequent correspondence, (sorry details aren't forthcoming) she responded:
During my first yechidus with the Rebbe before my bas-mitzva the Rebbe gave me a gift, a Russian coin of 20 Kopeks (dated 1940). When I asked him, "Why a Russian coin?" He smiled and with a twinkle in his eye said, "I want you to always keep it and a Russian coin is much more difficult to spend in America." Over the years it remains my most treasured possession – a physical reminder that I was never abandoned. We are not alone.
When Malka allowed me to publicize this point, I requested of her for the sake of the readers, if she can please send me a picture of the coin, and she graciously agreed.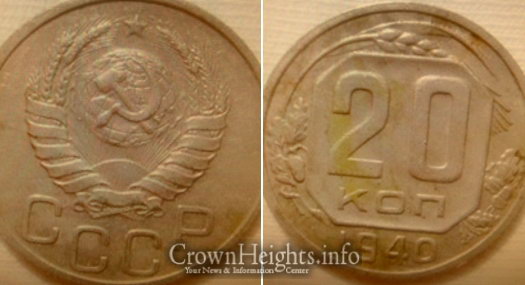 Rabbi Avtzon is a veteran mechanech and is available to farbreng in your community. He can be reached at avtzonbooks@gmail.com.