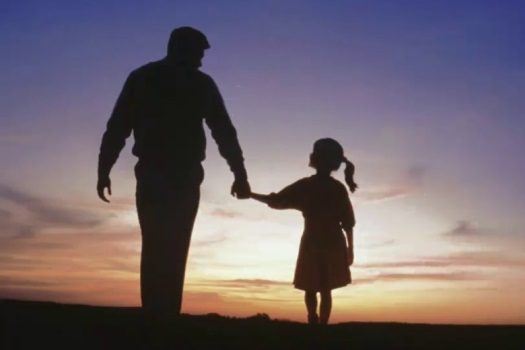 Weekly Story: You Were Not Abandoned, Part 2
Continued from last week – You Were Not Abandoned, Pt. 1
by Rabbi Sholom Avtzon
In the Hagadah we say that the Jews in Mitzrayim stood out. Our Chazal inform us, this was because of three of their actions; they did not change their language, their names or their style of clothing. I therefore decided to use this story for Shabbos Hagadol.
As noted in last weeks' story, when Malka came to 770 for her yearly meeting with the Rebbe, almost every year she would receive guidance from the Rebbe in regards to enhancing her observance of Shabbos and kashrus. In this weeks' story we will find out about the one time the Rebbe "visited" her, in her town.
I am writing it in first person as this is taken from Malka's correspondence with me.
As I noted previously, all my audiences with the Rebbe, besides the first one when I went with my parents into his [yechidus] room, were by a nod or a glimpse as he walked down the final two steps onto the sidewalk as he was going into the car.
But I had one "strange audience":
One year, around ten years after the passing of my adopted parents and my immediate decision to move as far away as one can, a Rabbi showed up in my village on my doorstep asking if I am Jewish. I was shocked, as I thought I will never be found, but I answered truthfully, "Yes." But then I asked him, "How do you know?"
He told me that he has a small package containing matza for me from the Rebbe.
I asked him how he found me, and why would he think that I am the Jewish person he was searching for?
He replied that the Rebbe told him to bring matza to this village and to give it to the [single] Jew living there. He was given no name or address or any other information. But as a follower of the Rebbe, he accepted the mission and set out to fulfill it.
When he arrived in the village, he started to ask the Gentile people if there is anyone Jewish in the village. Nearly everyone he asked answered that there is no one Jewish in this village, as I never told anyone that I am Jewish. Finally, he met a few people who said that they suspect I might be Jewish because I am the only person in the village that does not ever attend the community church.
The funny thing is that I was always invited to go to the church and join my neighbors. The social pressure was building and I had decided that I will attend church that coming Sunday so that I will fit in with the rest of the people living in the village. I figured it is no big deal; I am a Jew and will always be a Jew. Attending a church once in a while in a social setting, and not as a religious act, won't change that!
It was exactly then, that week, that I had decided to go to church the coming Sunday. It was a week or so before Passover. And that was when this rabbi showed up at my door!
It made me think hard and deep: The ONLY way he found me and the ONLY "sign" that I am a Jew is that I don't attend church. Do I want to really give up that sign??? If I attend church I DO lose something huge: my identity as the Jew in this village. Yes, it is going to change things and in a big way.
It was at that moment that I decided to keep my identity and sign of being Jewish and NEVER go into the church. It was the one and only time that I received something from the Rebbe – he knew I needed it at that moment and he was sending me a message that he is watching out for me.
The greatness in this was twofold: If he would have asked the messenger to deliver it to me by name, I would never have received this important message. I would have been happy that he sent me something, but not necessarily would I have connected it as a message to not attend the gathering in the Church.
Secondly, he allowed me to understand it on my own, without telling it to me straight out. It was my decision and resolve, not his. I maintain this resolve till this day, decades later.
Being that this week is called Shabbos Hagodol, I will share another encounter Malka enjoyed and shared with me. In her words:
Just a few months after [my adopted parents passed away and] I decided to rebel against all mitzvos, I visited the Rebbe. It was shortly before Pesach.
The Rebbe reminded me that I promised to keep Shabbos and therefore I cannot do any melacha forbidden on Yom Tov.
I laughed and said, "No, the promise was only for Shabbos, not Yom Tov! Yom Tov wasn't my promise!!"
The Rebbe smiled and said something like, "Yom tov is also called Shabbos".
I felt he was "cheating" on the agreement and asked him incredulously, "Since when?!"
He answered something like, "We start counting Sefiras HaOmer 'Mimochoras HaShabbos' (the day after Shabbos). So, you see the Torah calls Yom Tov "Shabbos". Therefore, you must keep your promise to refrain from any forbidden melachos on Yom Tov too."
The Rebbe gently, yet firmly demanded and insisted, and I had to acquiesce. He didn't leave any options. There were no compromises. As stubborn as I was, he always won the "debate".
Malka now continues addressing us, the readers of her amazing story. She states:
As a personal note to the readers of this column, a story without a message is a wasted opportunity.
My personal message to readers: These days I hear there are many young people who are angry, let down and disappointed by real or perceived trauma. These young people are turned off and choose to rebel. Many go "Off the Derech" (a cliche I read plenty about) and live a self-destructive physical and spiritually suicidal life. I say to them and their parents, I have been there and have done that too.
If anyone feels angry at G-d – it is me. I was orphaned twice: from both of my birth parents whom I never knew and then sixteen years later, from my adopted parents whom I loved. I had one anchor to being Jewish and that was my annual visits to the Rebbe. However, I lost that one anchor too when I lost the ability to see the Rebbe.
As an Orthodox observant young teenager I gave up on Judaism and chose to live away from it all – I moved to a place with no Jews. But, I keep connected to the Rebbe as I promised years ago. I visited him then at 770 and now at his grave site annually (and the graves of both my sets of parents), and I keep Shabbos and kosher, as I promised years ago. (I am now building an eruv around my property to enjoy the longer Shabbos days outdoors with a book and only kosher snacks).
I feel I have a right to be angry (as many of you also feel)! I am rebellious! But I am still a daughter of G-d and the Rebbe told me that G-d loves me no matter how angry I am at Him. I keep my promises of observing Shabbos and kosher without procrastination, while I wait for Him to finally keep His long overdue promise to take us all out of this painful exile.
I suggest to the youth (and those older) who are angry: Consider coming (at least) once a year to visit the Rebbe. I visit and I cry the whole time until there are no more tears, and then I leave behind the pain as a comfort settles on me with a feeling of being connected to something greater than me. I am uplifted from despair as I internalize the message that the Rebbe told me so long ago, that Hashem is my parent and that even this rebellious daughter is loved by Hashem. One day, maybe I will understand why, maybe not, but life is not just about me, for as I learned in Hebrew Day School, if I live only for myself – what am I? By myself I am insignificant. When connected to something greater than us, you and I will reach greater heights.  Therefore, I advise and indeed implore you; even if presently you are rebellious and angry, be connected to something greater than your individual self.
I celebrate Passover alone without any family as they were taken from me and I chose to celebrate alone away from any other Jews. I, the Rebellious Daughter, ask of you the Rebellious Son or Daughter (no son or daughter is really "wicked" – just rebellious, and may sometimes feel fully justifiable to rebel), to come join whatever family you have for the Seder. Appreciate that you do have family, and join their Seder because the Seder has a special place dedicated just for you. After all, we are one of those Four Sons/Daughters, who belong at our family's seder table.
I will always be a daughter who is loved by Hashem.
Malka
Part 3 – How the Rebbe guided me when I had a serious medical illness. Will come next week iy"h.
Rabbi Avtzon is a veteran mechanech in the United Lubavitch Yeshiva Ocean Parkway and the author of numerous books. He is available to farbreng in your community and can be reached at avtzonbooks@gmail.com.