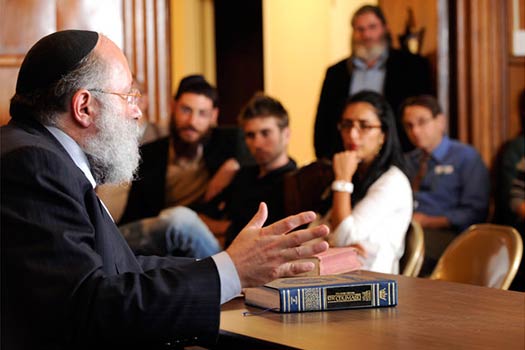 This week's edition of MyLife: Chassidus Applied with Rabbi Simon Jacobson, Episode 154, will air tonight, Sunday, here on CrownHeights.info, beginning at 8:00pm. This week Rabbi Jacobson will address the topics: Purim Applied to Our Lives Today; Is Mocking Misnagdim Appropriate? What Can I Do About My Discouraging Relapses? How to Deal with Parents Who Have Left the Fold? What Role Do Apocryphal Texts Play in Judaism?
How does Chassidus apply Purim to our personal lives?
With Ahavas Yisroel being such a foundational mitzvah of the Torah, and especially emphasized by Chassidim, how can we justify chassidim mocking and deriding the ways of misnagdim?
What should a married child's approach be to a parent who is no longer so frum? Did the Rebbe ever direct one in dealing with this situation? Should grandchildren be encouraged to spend time with such grandparents although it may confuse the kids? How can one express their disappointment with a parent's decision while still fulfilling the mitzvah of honoring one's parents?
What should be our attitude to the so-called apocryphal texts, like Ben Sira, the book of Chanoch, the book of Maccabees, further Psalms past 150 that are attributed to King David, and so on? Why were these texts not accepted into the Jewish canon? Do they have any legitimacy? And most importantly, should they play any role in our lives as Jews and if so, how?
I can't rid myself of the gnawing feeling that I'm failing. I try to be a good Jew, involve myself in the Rebbe's works and fine tune my character. Sometimes I look back on the past couple of weeks and I'm proud of how I spent my time. But then, there are times that I'm left utterly disappointed in myself. I slacked off, wasted time, and it feels like I had a spiritual relapse. I don't know how to not let the down times keep me from going forward. It feels like I'm getting nowhere. What advice does Chassidus have for me?
These are among the relevant issues Rabbi Jacobson will address in this week's 154th episode of MyLife: Chassidus Applied.
Rabbi Jacobson will also review the following essays submitted in this year's MyLife: Chassidus Applied essay contest: "The Never-Ending War" by Shmuel Kesselman, "And Then I Cried" by Nuta Yisrael Shurack, and "Joyous Thoughts for the Jaded Jew" by Fruma Rosenberg. These and other essays can be read online at meaningfullife.com/essays-2016.
And finally, the Chassidus question of the week: Part IX in a comprehensive series of understanding the implications of the Kabbalistic concept of Reshimu, and specifically the difference between the "square-like" tzimtzum and the "circle-like" tzimtzum.
This hour-long dose of insights is meant to inform, inspire and empower us by applying the teachings of Chassidus to help us face practical and emotional challenges and difficulties in our personal lives and relationships. To have your question addressed, please submit it at meaningfullife.com/mylife.
The topics in this Sunday's hour-long broadcast will include:
Chassidus Applied to Purim
When parents leave the fold…
Is mocking Misnagdim appropriate?
What role do apocryphal texts play in Judaism?
How can I stop my 'downs' from discouraging me?
Idle conversation: feedback
Chitas for women: feedback
Chassidus Question: Reshimu Part IX- Which is higher the 'square' tzimtzum or the 'circle' tzimtzum?
MyLife Essays: The Never-Ending War, And Then I Cried, Joyous Thoughts for the Jaded Jew
In what has now become a staple in so many people's lives, MyLife: Chassidus Applied addresses questions that many people are afraid to ask and others are afraid to answer. When asked about the sensitive topics he has been addressing, Rabbi Simon Jacobson commented, "I understand that the stakes are high and great care has to be taken when speaking openly, but the silence and lack of clarity on matters plaguing the community can no longer go unaddressed. The stakes of not providing answers are even higher."
The on-going series has provoked a significant reaction from the community, with thousands of people viewing each live broadcast and hundreds of questions pouring in week after week. At the root of every question and personal challenge tackled by the series is the overarching question: Does Judaism have the answers to my personal dilemmas?
In inimitable "Jacobson-fashion", the broadcast answers people's questions in simple, clear language while being heavily sourced. Each episode is jam-packed with eye-opening advice from the Rebbeim, gleaned from uncovering surprising gems in their letters, sichos and maamorim that address our personal issues with disarming relevance. Simultaneously, Rabbi Jacobson is able to crystallize a concept quickly, succinctly, and poignantly for any level of listener.
All episodes are immediately available for viewing in the MLC's archive and can be downloaded as MP3s for listening on the go.
Questions may be submitted anonymously at meaningfullife.com/mylife