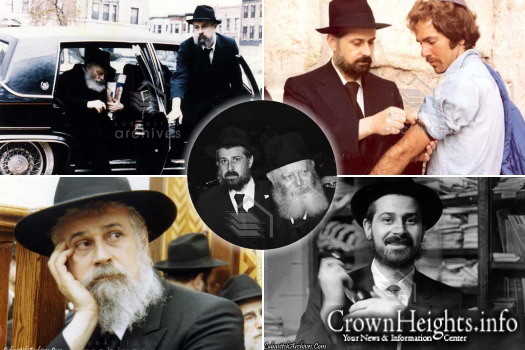 We present the following photo gallery of the illustrious life of Reb Binyomin Klein, OBM, trusted secretary and devoted Chossid of the Lubavitcher Rebbe, who passed away last night at the age of 79. The photos are courtesy of Lubavitch Archives and JEM.
From Chabad.org:
Rabbi Yerachmiel Binyomin Klein, who since 1963 discreetly served as a longtime aide to the Lubavitcher Rebbe, Rabbi Menachem M. Schneerson of righteous memory, and as a liaison to the Israeli political, social and security leadership, passed away early Friday morning in New York. He was 79.
Rabbi Klein maintained close relationships with every branch of Israel's political, military and security leadership. Even decades later, he was famously tight lipped about his extensive dealings.
Born in Jerusalem in 1935, his father, Rabbi Menachem Klein, was a respected Torah scholar. His mother, Rachel, died shortly after giving birth, similar to Rachel, wife of Jacob, he would say, and he was named Yerachmiel after his mother and Binyomin, like Rachel's son.
He passed away in his sleep Friday morning.