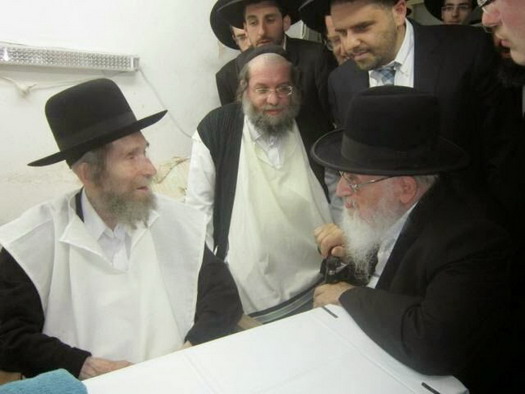 Rabbi Aharon Leib Shteinman (left) meets with Rabbi Meir Tzvi Bergman (right).
During Pesach of this year, Rabbi Aharon Leib Shteinman sat down for a conversation that has shook and confused the Chareidi world.
Rabbi Shteinman is a prominent, elderly Rabbi, and is widely respected and considered as the "Gadol Hador" to the Chareidi world, especially in Israel where he resides. As Rosh Yeshiva in Ponovezh, he has written and several compiled scholarly works, including his magnum opus – titled "Ayeles Hashachar."
Recently, when a law was passed in the Knesset that Yeshiva students might indeed be drafted into the Israeli army, Rabbi Shteinman was one of the many Lithuanian Chareidi Rabbis who protested the law and encouraged his followers to demonstrate.
However, his words in this recent encounter with Rabbi Meir Tzvi Bergman, Dean of the Rashbi Yeshiva in Bnei Brak, have left many scratching their heads in confusion.
Amid their conversation on various topics, Rabbi Shteinman mentioned that awaiting Moshiach is something which is practically impossible to fulfill, and is therefore not an obligation for a Torah-observant Jew.
The shocked rabbi responded that the responsibility of awaiting the arrival of Moshiach is codified in Maimonidies' Mishneh Torah, Hilchos Melachim, Chapter 11. The Rambam writes that "he who doesn't believe in the coming of Moshiach, or who doesn't await his arrival, is someone who denies Torah," and would be considered a heretic. This is also one of the iconic 13 Principles of Faith compiled by the Rambam, which are central to Jewish belief.
Rabbi Shteinman supported his stance with the words of Hillel (Sanhedrin 99A), that "There is no Moshiach for Israel."
However, due to the teachings of the Rambam (and more recently the Chasam Sofer), this is a view that is incongruent with Torah Judaism.
Now, Rav Shteinman is respected as "Daas Torah" in the Litvish/Yeshivish world, and beyond. He is consulted with in regards to Halacha, Torah observance and many more facets of Jewish life. His adherents follow his opinions with great pride, and rightfully so.
One could possibly pardon Rabbi Shteinman for being misspoken on this issue, primarily due to his being close to 100 years old. Not to suggest that he isn't cognizant, as I would highly doubt his followers would refer to him on significant matters pertaining to the Chareidi community if that were to be true.  However, I can only imagine that even the greatest minds will err as age takes its toll.
Nevertheless, this whole saga has surprised and shocked many, even his ardent followers.
Instead of looking for ways to attack a contemporary Torah giant, I think I would rather look to the "Divrei Ben-Amram" – the words of our Rebbe – on this matter.
On Shabbos Parshas Chayei Sara, 5745 (1984), the Rebbe spoke – amongst other things – of the Torah observant Jews who would, in the words of Dovid Hamelech, "discredit the heels of your Moshiach," and may disguise it in garments of piety – referring to those who believed in the coming of Moshiach, but that its time (Heaven forefend) isn't now.
They will tell you that eventually the redemption will come, but there's no rush and no need to harass G-d to take us out of this exile within which we find ourselves.
Additionally, those who do beseech the Almighty for Moshiach's arrival are making too loud a statement, and we ought to be apprehensive of the world's reaction.
The Rebbe suggested that when we make requests of G-d, and say "We want Moshiach Now," this is the opposite of the timeworn theory of having to mold our ideals to be integrated into the world. The greatest expression of this was the Lag Ba'omer parades in honor of the Rabi Shimon Bar Yochai – an innovation that the Chareidi world was defiantly opposed to.
In continuation, the Rebbe pointed out that not only shouldn't we be wary of making waves in the world, rather we should be striving to peacefully impress upon the gentiles that they have a mission in this world, specifically in the observance of the Seven Noahide Laws, while we fulfill our role through the observance and commitment to Torah and Mitzvos.
In the Rebbe's imitable way, he was sure that the hesitance from the Torah observant community regarding the imminence of Moshiach was in itself an indication of the arrival of the Redemption, as per our Sages in Yalkut Shimoni.
The Rebbe concluded by saying that this should only strengthen our resolve in hastening the coming of Moshiach, through our personal conduct and in the dissemination of Torah and Judaism to others.
The beliefs may have slightly changed, but the message is constant.
When opinions and outlooks from our fellow G-d-fearing Jews are seemingly not in line with our Torah sages, we must look to reinforce the message of our Rebbe. We must recognize that this is part of the journey itself, and much like the Rebbe, who never diverted an iota from his (and our) goal to expedite the true and ultimate Redemption.
Rabbi Newman can be followed on Twitter @askrabbiteddy, and contacted via rabbi@askrabbiteddy.com.