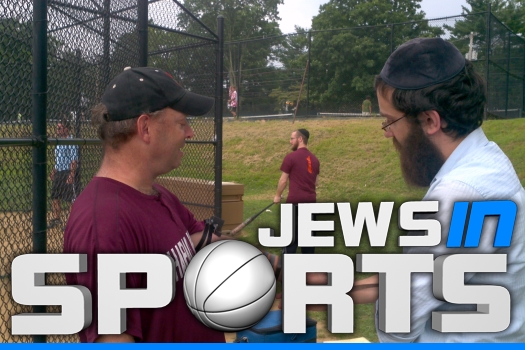 Jews in Sports: Chabadnam-Style
Since it was uprooted from Russia, Chabad has reinvented itself as a movement to move all others. Over the past 90+ years, since the first shliach was sent to another country to promote Judaism, there have been many ways and manners wherein shluchim have accomplished their task to bring Jews closer to Judaism every single day.
Some have done it through riveting lectures; others through visiting not-yet-observant Jews at their workspaces. Some, yet, mesh America's Past-time and the donning of tefillin together in a perfect harmony of athletics, spirituality and G-dliness.
In its first season joining the Lower Merion Synagogues Men's Softball League in Philadelphia, PA., the "Chabadnicks", representing Rabbi Shraga Sherman's Chabad of the Main Line, barely eked its way into the post-season, drawing a matchup with one-loss-all-season Beth David.
It seemed like all the odds were stacked against Chabad's squad, going up against the powerhouse of the league in the opening playoff round, and they would need all the help they could get from any source possible to meet the tall task in front of them.
Youth Director Rabbi Mendy Cohen came through with a clutch performance in the dugout by helping some of Chabad's team members done tefillin and say Shema in between at-bats.
"It's always neat to put tefillin on with the guys," Rabbi Cohen explains. "The players were all upbeat about it, and they know they can't go to the softball game without seeing the tefillin there. That makes for a unique experience."
Call it Chabad-style or whatever you will like, but the sideline mitzvah-performance seemingly helped keep the score tied (4-4) through six and a half innings.
Of course this wasn't the first time the Chabadnicks saw Rabbi Cohen or experienced his spiritual assist.
"The last time I came out with my tefillin I got someone to put them on for the first time in his life," notes Rabbi Cohen. "That's always a nice feeling when you have a Karkafta – a first-timer."
However, once all those who needed to put on tefillin did just that, Beth David came barreling through in the last two innings, pulling away with a 10-4 victory and moving onto the second round while ending the softball season for Chabad's team.
"The feeling is we're at softball competing," adds Rabbi Cohen, "but win or lose we're still going to have fun and do a mitzvah at the same time."