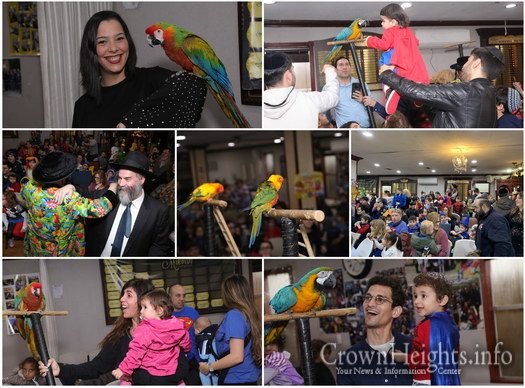 Sunday at Chabad of Georgetown, Brooklyn, a large Purim Party for kids was organized by Shliach Rabbi Avrohom Holtzberg. Hundreds of kids gathered, all dressed up in accordance with the Purim spirit.
After an entertaining program headed by Rabbi Neparstak, the children's attention was taken by the Parrot Rebbe himself.
The place was on wheels when they looked on as the parrots put up a riveting show and flew around the shul right above their heads. Those who volunteered to hold and assist in the parrot tricks were thrilled with excitement. One lucky girl even won the raffle of taking home her very own parrot!
The party ended off with a Purim Masquerade contest, prize winnings and delicious Pizza and Soda. At Chabad of Georgetown the Purim festivities have only just begun.