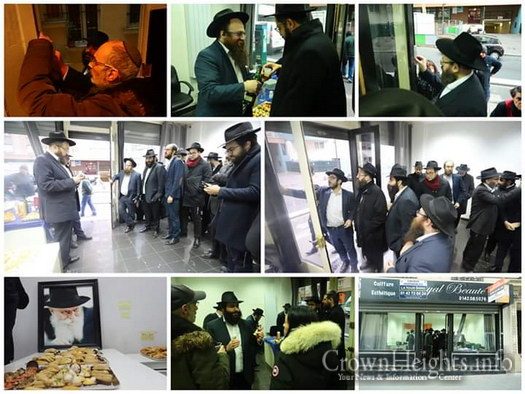 Several days before the Kinus is set to begin, a new and luxurious location was established in Paris as an office to help Shluchim. The location is exactly what the Rebbe asked for Shluchim to have: a place for Shluchim to work with ease, to have meetings, place with food, drink, computers etc.
The office also established a fund to help pay for the teffilin of Shluchim's children, as well as a fund to assist after the birth of a child. In the plans is also for a future fund to help pay towards weddings costs of Shluchim's families.
The office also brings important items needed throughout the year for shlichus, at much cheaper prices, which the Shluchim very much appreciate.
The office also assists the Shluchim's children by paying their entry into the Kinus Tzeirei Hashluchim, as well as arranging for them a special Shabbaton in France every year.
The honor of putting up the Mezuzos in the new location was given to Rabbi M. M. Azimov, Head Shliach of Paris. At the event, Rabbi Azimov said over a sicha of Shabbos Mevarchim Kislev of the year 5747, where the Rebbe himself brings up the idea of establishing such an office. He thanked everyone for their donations, especially the board.
Rabbi Levi Yitzchak Mimoun, the director of the office, Shliach to Saclais, spoke about the purpose of this office and thanked all the donors and the Shluchim who gave of their own funds for these beautiful new premises.
Dozens of Shluchim joined in with this important undertaking and are looking forward to enjoying the new office which will, IYH, open in approximately one month, after the necessary renovations are completed.