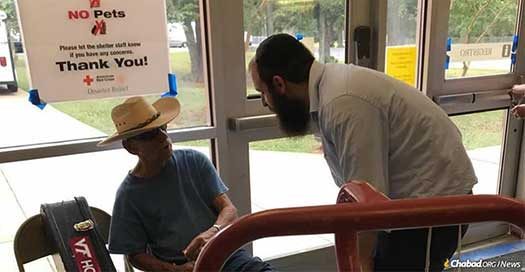 Volunteers from Chabad of North Carolina brought supplies and visited those in shelters who had to evacuate their homes due to flooding.
by Tzemach Feller – Chabad.org
He was in the middle of a hurricane, but Jonah Kaplan felt blessed.
The two-time Emmy-nominated reporter's coverage of Hurricane Florence brought him to Myrtle Beach, S.C., 180 miles from his home in Raleigh, N.C. He arrived at a city under mandatory evacuation, with businesses shuttered and homes abandoned. Searching for kosher food in a ghost town, Jonah contacted Chabad of Myrtle Beach.
Rabbi Eli Reyder took the call, braving the inclement conditions to deliver a Shabbat meal to the grateful reporter, who took to twitter to thank him:
"Rain or shine, Friday night is still #Shabbat! So grateful to Rabbi Eli from @ChabadMB who braved [t]he storm to bring me candles, wine, challah & kosher food. The only thing missing is my family!!"
The displacement and discomfort caused by the storm in Myrtle Beach pales in comparison to the devastation that is ongoing further north. At least 14 people are dead, hundreds of people were being evacuated by boat or helicopter, and tens of thousands of homes have been damaged, as record-breaking rainfall and storm surges continue to generate widespread flooding throughout North Carolina.
As coastal cities braced to bear the brunt of the flooding, many residents found refuge in Charlotte. Shelters quickly filled, and aid was sorely needed. Chabad of Charlotte distributed hundreds of water bottles, juice boxes, snacks and other items to evacuees. Although spared the worst of the damage, Charlotte was hit hard, with the worst yet to come, as the rain is expected to pick up as the storm moves inland.
"Chabad will absolutely do whatever we can to help," said Rabbi Yossi Groner, executive director of Chabad of North Carolina. "We don't know the extent of the damage or what exactly is needed right now, but we are preparing to have resources available. One of the biggest challenges for people is that their homes are not livable. They will need to have places to go and stay, and we are arranging for that as well. Where possible, we will assist with storm clean-up. In some cases, we'll be there just to lend a comforting hand."
In the coastal city of Wilmington, power is out and cell-phone service is minimal, making it nearly impossible to contact residents, as flooded roads make the city inaccessible.
Rabbi Moshe Lieblich of Chabad of Wilmington rode out the storm and will help survey the extent of the destruction, reaching out to community members and checking in on some of the area's most vulnerable residents. Reyder and other rabbis and volunteers plan to make the drive to Wilmington as soon as conditions allow, bringing much-needed supplies to the beleaguered city.
Rain or shine, Friday night is still #Shabbat! So grateful to Rabbi Eli from @ChabadMB who braved he storm to bring me candles, wine, challah & kosher food. The only thing missing is my family!! @ABC11_WTVD @Chabad @TimesofIsrael @JTAnews #hurricaneshabbat #hurricaneflorence pic.twitter.com/yb0HVNRyzy

— Jonah Kaplan (@KaplanABC11) September 14, 2018