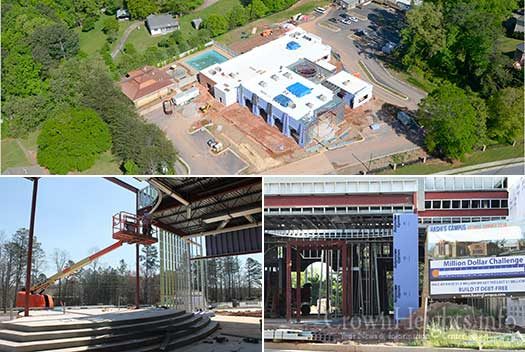 Rashi's Campus Receives $1 Million "Build it Debt Free" Challenge Grant
When Rashi Minkowicz OBM, Shlucha in Alpharetta, Georgia, suddenly passed away over four years ago, her community and family launched a campaign to build an educational center in her memory that would become the permanent home for the growing community she helped establish.
Four years later that dream in on its way to becoming a reality with construction well underway of a magnificent 23,000 square foot, almost $6 million dollar, building which is expected to be completed later this summer in time for occupancy for Rosh Hashana.
With sixty percent of the funds already raised, the community had planned to raise as much as possible of the remaining $2.5 million and then get a mortgage from the bank for the remainder.
Then an anonymous friend of the Minkowicz's and supporter of the center showed up with a generous challenge to the community. "you need to build it debt free and I will help you make that happen" he told Rabbi Hirshy Minkowicz "A Chabad rabbi needs to spend his time doing what he does best, tending to the flock, not struggling to pay large mortgages"  he explained.
He then presented Rabbi Minkowicz with a challenge "If you raise the first $1.5 million needed to finish it, I will give you the last million and you will build it debt free"
"This is an incredible opportunity for which we thank G-d" said Rabbi Minkowicz "If we can pull this off, and G-d willing we will, it will give us a platform to be an even greater resource to the Jewish community, free from some of the financial strains that sometimes forces an organization to shift focus"
In order to help achieve the goal, another donor has now offered to match all donations made during the week of May 6 – 13.
More information can be found at www.builditdebtfree.com