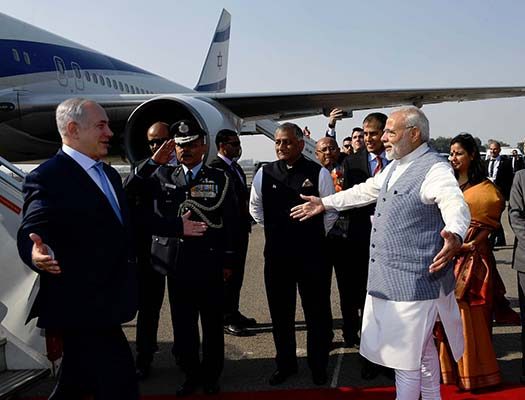 As Israeli Prime Minister Benjamin Netanyahu touched down in India for a five-day visit, he was greeted by India's Prime Minister Narendra Modi on the tarmac where the two embraced and exchanged hopes that the visit will further strengthen the ties of the two country's.
by CrownHeights.info
This visit follows a similar visit by the India PM to Israel in July of last year, in which Netayahu accompanied Modi around Israel and a much publicized visit to the Kotel. "Modi extended an invitation to Netanyahu to visit India at a mutually convenient time" during a July 5 press conference in Jerusalem.
A large business and educational delegation – the largest ever – is accompanying Netanyahu on this trip. Also accompanying him is Moshe Holtzberg, the lone Jewish survivor in the Chabad center at Nariman House, during the Mumbai terror attacks in November of 2008. Those attacks claimed the lives of his parents and of others that were in the Chabad House at the time. The attack claimed the lives of 164 people.
At a ceremony on Thursday, the 12-year-old yeshivah student will join Netanyahu, who will unveil a plaque honoring his parents at Nariman House, the building in the bustling Colaba district of India's largest city that houses the Chabad center. The plaque will serve as the cornerstone for the Living Memorial.
Designed to educate and inspire people of all backgrounds to act for the betterment of themselves, their communities and the world, the Living Memorial will include the apartment where the Holtzbergs lived, as well as the floor where most of the murders occurred. On the top floor, from where one can see the sites of the other terror attacks that swept through Mumbai, will be a reflection garden that will focus on and recognize all the victims of the attacks.
My first visit to India, a world power that is strengthening its relations with Israel. I am excited about this historic week that will further strengthen Israel's international standing. 🇮🇱🇮🇳 pic.twitter.com/0ptrXuabL2

— Benjamin Netanyahu (@netanyahu) January 14, 2018
ברוך הבא להודו, חברי ראש הממשלה נתניהו! ביקורך בהודו הוא היסטורי ומיוחד. ביקור זה יחזק את הקשרים הקרובים בין המדינות שלנו. pic.twitter.com/h3Jmes5SxB

— Narendra Modi (@narendramodi) January 14, 2018
ברוך הבא להודו, חברי ראש הממשלה נתניהו! ביקורך בהודו הוא היסטורי ומיוחד. ביקור זה יחזק את הקשרים הקרובים בין המדינות שלנו. pic.twitter.com/h3Jmes5SxB

— Narendra Modi (@narendramodi) January 14, 2018