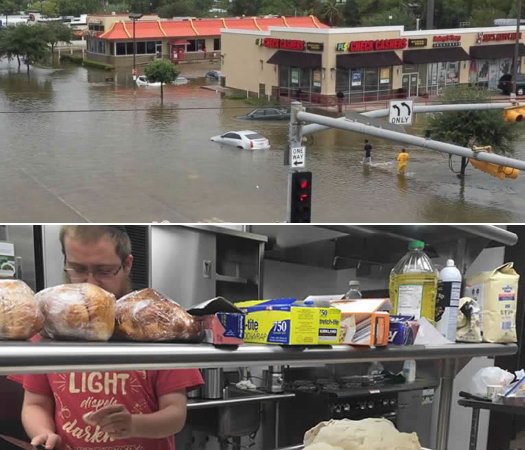 From Chabad.org by Dovid Margolin:
Houston has always had a limited amount of kosher food. Even as its Jewish population has rapidly grown in recent years, as has the general population, it remains geographically distant from kosher manufacturing bases on the coasts and the heartland. Each week, trucks carrying kosher food arrive from hundreds if not thousands of miles away. A handful of chain supermarkets, such as H-E-B Grocery, carry kosher meat, poultry and milk to supply Houston's Jewish community. Hurricane Harvey flooded two of these main supermarkets and caused the other two to shut down as well—one has been turned into a shelter by authorities—and supplies are now beginning to run low.
"We have placed an order for kosher meat in Miami, and it's leaving there on a refrigerated truck Tuesday morning, heading this way," Rabbi DovidGoldstein, a Chabad-Lubavitch emissary in Houston who is coordinating the kosher food-relief effort for the community, told Chabad.org. Chabad-Lubavitch of Texas Regional Headquarters plans to make a kosher food pantry available to the Jewish community as supplies reach the area.
They can only do that, however, if the roads are cleared of water.
"Even for those who were fortunate not to lose electricity, like us, it's a matter of days until we have no milk and other basics," says Rabbi Yossi Zaklikofsky, a Chabademissary whose own home was flooded and serves as leader of the Shul of Bellaire. He added that many of those who did lose their electricity lost whatever kosher food they had stockpiled. "And when the stores do reopen, it is open question as to what they'll actually have that's salvageable."
For now, basic staples like rice and cereal are available in unflooded grocery stores. But thousands of people in Houston are still sheltering in place, and when that order is lifted, food supplies will inevitably plummet.
Pinny Bard-Widgor moved to Houston from New York just last week with his wife and children. As weather reports poured in prior to Shabbat, Bard-Widgor decided to take his family to Fort Worth, a five-hour drive away. Local friends told him that he was overreacting. He still doesn't know the extent of damage to his new home.
With his family safe in Fort Worth, Bard-Widgor flew to New York on Sunday evening for work, and is now helping Goldstein coordinate a kosher-food shipment from Brooklyn.
"We're working on getting a truck of perishables and another of nonperishables," says Bard-Widgor, though he was still having difficulty getting hold of a refrigerated truck. Goldstein reports that food shipments are being arranged from Dallas as well.
In addition to supermarkets and kosher restaurants (all of which have also been flooded), a number of Jewish families in the Houston area order kosher food via a co-op, meaning that together they place a bulk order every three months. They then store the food in a large freezer. The next order was set to arrive on Sept. 4; as of now, it doesn't look like it will make it. All of this is taking place with Rosh Hashanah and the High Holidays fast approaching.
"If we don't get food down here this will become a big problem fast," Zaklikofsky tells Chabad.org. "Are we surviving? Yes, for now."
Chabad in Houston Takes Action as Rain and Flooding Continues
by Faygie Levy Holt
The posts were heartbreaking: "We have 3 feet of water so far, but it's still rising, and we need to make sure we can get the kids to safety … "; " a rescue is needed—age 70 in house with water above his chest"; "We're out of food … running out of bottled water."
There were calls for help and action from across the greater Houston community and beyond as people in dire need reached out to Chabad-Lubavitch emissaries on social media, by phone and in person. Some were seeking assistance and others are trying to offer it, using the Chabad centers as a means to communicate in the midst of continued rain and rising waters in Texas as a result of Tropical Storm Harvey.
At the center of the storm—in Houston and its environs—even as they were busy coping with flooding in their own homes, Chabad emissaries set about making calls, preparing food and making arrangements to get it to people in need. All the while, they have been using WhatsApp and Facebook to connect with the community, as well as raise funds for ongoing assistance and the cleanup to follow.
Chabad of Uptown launched an online registration form early Monday morning so people who have been evacuated and require a meal can respond. Kosher breakfasts have already been delivered to those in area shelters or holed up in local hotels. Residents expressed gratitude for the help: "Thank you, we are going now to the hotel!" posted resident Yaffa Melnikov Terrill as she headed off to pick up a hot meal.
"I have a bunch of volunteers here and some people staying in the house, and we are preparing bagels, scrambled eggs, hash browns and vegetables for breakfast," said Chanie Lazaroff, co-director of Chabad of Uptown with her husband, Rabbi Chaim Lazaroff. "I sent out a batch already and a few more are going out, but we just got a flash flood warning, and the challenge is to keep ourselves and our volunteers safe even as we get out of the house to help others," she tells Chabad.org.
Representatives from Aishel House, a project of the Chabad Texas Medical Centers, are also delivering kosher breakfasts to families and individuals who are sheltering at the George R. Brown Convention Center in Houston.
Especially hard-hit is the traditionally Jewish neighborhood of Meyerland, near the Brays Bayou.
Numerous emergency evacuations were reported as taking place in the area overnight from Sunday into Monday. "For some of the families, this was their second evacuation," noted Chani Lazaroff. "They had already left their homes to another home with a second story, but then had to be saved by boat or helicopter."
Meyerland is home to a number of synagogues, kosher restaurants and supermarkets with large kosher-food sections; many of those facilities are submerged. Almost nothing edible can be salvaged at most supermarkets and restaurants.
To help ensure that there will be kosher meals for those in area shelters, Chabad has reached out to the National Guard in the hopes of getting kosher Meals-Ready-to-Eat (MREs) to families who need it most.
According to Lazaroff, Chabad Houses across the state of Texas are preparing to bring in fresh meals and supplies of kosher meat, chicken and milk as soon as the waters recede and the city is reachable by trucks. The deliveries will likely include bottled water as well since much of the existing water is now contaminated.
Offering Food, Water, Generators and Encouragement
Closer to the Gulf Coast, Rabbi Yitzchok Schmukler, co-director of Chabad of the Bay in League City with his wife, Malky, says the situation in his area remains unpredictable as Clear Creek (technically, a small river) has surpassed flood stage.
A family with two small children who lives just two blocks away from them was forced out of their home yesterday and is now staying with the Schmuklers, whose own home has water leaking from the ceiling.
"Yesterday morning, we got together a support group on WhatsApp for people in our community, so we can all be in touch," he tells Chabad.org. "It's very active. People are sharing information about the emergency or reporting who is staying where, and even just offering encouragement to each other."
Like other Chabad emissaries, the priority is helping those at risk.
"As a rabbi and a shaliach, it's not just about us," he says. "Today, I plan on going to the shelters in our community and city—those I can get to in the storm—and visit and see if I can help anyone, be it with moral support or in any other way."
He praised social media like Facebook and WhatsApp as being critical tools throughout the storm. "We are hoping these social-media networks remain working because we see how helpful they've been. There is no question that these tools are aiding the situation tremendously."
In the Corpus Christi area, which took a direct hit when Harvey first made landfall Friday night, Chabad emissaries Rabbi Naftoli and Nene Schmukler returned to the area with fresh food, water and generators.
Liron Dana O'Mary, a resident of Port Aransas—a city just outside of Corpus Christi that suffered significant destruction—posted a photo of her family with the rabbi and the myriad of food supplies he had brought with him, writing: "Thank you for all the goods you brought to us. [It] really warms our hearts."
To assist in the effort, donate to the hurricane relief fund here.