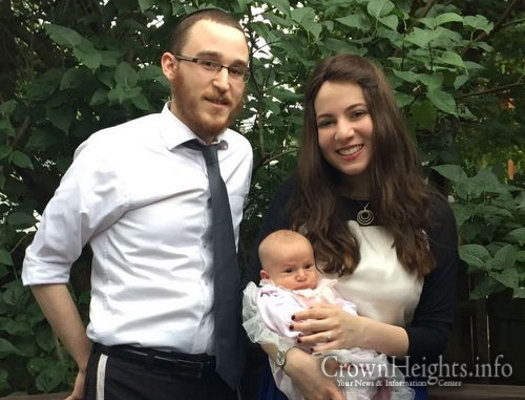 Rabbi Mendy and Mussie Greenberg, with their 2 month-old daughter, Rachel, are moving to Twinsburg, Ohio, this month to start the Twinsburg Chabad Jewish Center.
From the Cleveland Jewish News:
A Chabad Jewish Center is scheduled to open in Twinsburg and will offer its first services during the High Holy Days.
Rabbi Mendy Greenberg and his wife, Mussie, will lead the Twinsburg Chabad Jewish Center. They are moving to the area from Brooklyn, N.Y., this month.
Greenberg said they are working on securing a home in Twinsburg, where the family will both live and hold regular services. He said they plan to have larger events, such as High Holy Day services, at a larger community location.
"With the quickly growing Jewish population of Twinsburg, it was only natural for us to think about Twinsburg before looking anywhere else to open a Chabad center," Greenberg said. "After just a few short visits, my wife and I fell in love with the area. We are excited to call Twinsburg our home."
The center will be part of the Chabad movement, which also has centers in Solon, Beachwood, Lyndhurst, downtown Cleveland, Westlake and Akron.
Click here to continue reading at the Cleveland Jewish News.
CrownHeights.info wishes the young couple much success on their new Shlichus.