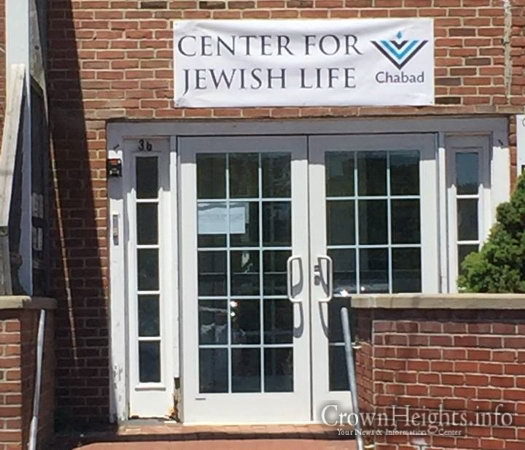 From 27 East by Chris Peraino:
Since its 2013 founding, Chabad North Haven has been restrained in its potential.There was no concrete meeting place. Rather, East End residents searching for a spiritual outlet met in a hodgepodge of accommodations: a person's den one week, another individual's kitchen the next—whatever made itself available. It was a communal effort, though one that stymied growth and outreach.
But with Sunday's grand opening of the Center for Jewish Life at 36 West Water Street in Sag Harbor, members now have a permanent home of worship—one with promise.
"It enables us to take our efforts to a new level," said Rabbi Berel Lerman, the spiritual leader of Chabad North Haven. "We like to say that there's no metal detector, but a soul detector. Everyone has a degree of spirituality. We're here to nourish it."
The organization's board recently signed a lease for the 3,600-square-foot space—previously used by John Jermain Memorial Library officials when the main building was undergoing extensive renovations—from Staller Associates, a property management company based in Islandia.
A search for a new space began in September, according to Emil Braun, a leading member in the center's lease acquisition. Initially, the rent's price point was out of range. But once Chabad North Haven detailed Mr. Braun's and Mr. Lerman's intentions—to create an open, friendly community space that fosters Jewish culture—the cost was knocked down a few pegs, they said.
"We were very fortunate in finding a friendly and reasonable property owner and manager who gave us the space at a tremendous value for us," Mr. Braun said. "It gives us a home. It gives a presence. It gives us a face."
The new center will remain open as long as organizers can afford the rent, a figure that Mr. Lerman declined to share but noted could rise significantly years down the road. He noted that the lot to the rear of the center, which faces the water, is currently unoccupied and unkempt. If that area is eventually built upon, rental costs could go up, he explained.
"I think that Sag Harbor is a booming town," said Denise Wohl, an active member of several local Jewish groups and the main advocate pushing for Chabad North Haven to rent space in Sag Harbor. "It's bustling with residents and tourists, and Chabad is built on outreach and education. I felt Sag Harbor needed it, really needed it. There's a lot of mixed energy there."
Mr. Lerman estimates that prior to having its own meeting space, the Chabad North Haven serviced roughly 150 families. With greater versatility, he expects that number to rise dramatically in the upcoming months. "Last weekend's services were the most attended I've ever seen," said Mr. Braun, noting that about 100 people attended Sunday's opening reception.
Click here to continue reading at 27 East.