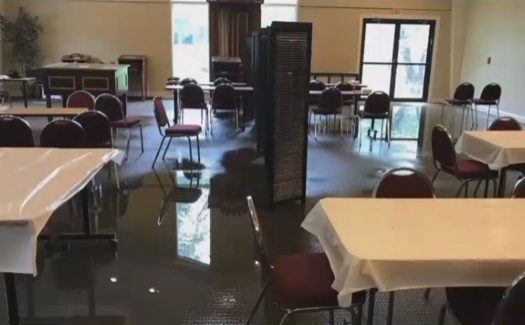 Floodwaters from rainstorms have caused extensive damage to a Chabad synagogue in Overland Park, Kansas, which filled the center with 4 to 5 inches of water.
Once the water went down, it left behind a thick layer of mud. The floodwaters soaked every inch of flooring, which destroyed the carpeting and drywall. Their kosher food pantry was also damaged, along with many children's books and toys for the preschool.
The center's director, Rabbi Mendy Wineburg, told local media that they are working hard to get everything replaced to open their preschool in three weeks.
Volunteers are helping pull out carpeting and remove damaged drywall at the Chabad House.
"The outpouring of support, people just coming by to help out with cleanup has been really heartwarming," said Wineberg. "There is a silver lining in every cloud and that's been the silver lining: seeing people's concern and interest."
To help with the repairs, please click here.