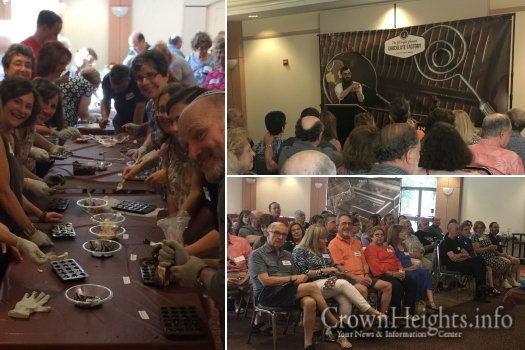 JCrafts – a program founded by Rabbi Levi Raskin of Chabad of Rockville, MD, combining learning about Jewish foods with an experiential, hands-on chocolate making activity – hosted its first ever event for adults for the congregants of Temple Beth Ami and Kol Shalom in Rockville. It was a "sweet success," reports a local media outlet.
From Kol Habirah Jewish News:
JCrafts' inaugural chocolate factory workshop for adults on July 9 was a sweet success. "The Jewish Chocolate Factory — A Gastronomical Experience" was jointly hosted by Temple Beth Ami and Kol Shalom of Rockville, Maryland.
This gastronomical and educational event was a grown-up spinoff of the event JCrafts, an affiliate of Chabad Lubavitch of Maryland, has brought to dozens of Jewish educational settings. Combining learning about Jewish foods with an experiential, hands-on chocolate making activity, the 50 participants left with full minds and full bellies.
"The Chocolate Factory was a blast," said Shelly Lenkin Gordon, Program and Engagement Director of Temple Beth Ami. "It was fascinating to see exactly what goes into making a filled chocolate confection. This program offered the opportunity to learn more about the relationship between food and Jewish holidays while enjoying the hands-on experience of making your own chocolate."
Separated by less than a mile and a half, the two congregations were happy to co-sponsor this event. Gordon and Kol Shalom's Director of Lifelong Learning, Ruth Szykman, were thrilled to work with Rabbi Levi Raskin to bring together adults from their congregational communities to learn and shmooze, and they have discussed additional opportunities for collaborative programming in the future. JCrafts' chocolate factory workshop was a perfectly delicious way to spend the afternoon making chocolate and new friends.
"Working with JCrafts was a wonderful experience," Szykman said. "It was awesome to walk around the room and see people talking and laughing as they made their delicious creations. Offering adults the opportunity to participate in the kind of experiential learning — which we know is so successful for kids — is a new and innovative way to reach congregants. I look forward to bringing more of this type of programming to Kol Shalom."
The program began with Rabbi Levi Raskin, director and founder of JCrafts, sharing thoughts and opening a discussion about various Jewish traditional foods. The rabbi-turned-chocolatier proceeded to make life-size,  chocolate-only creations of Chanukah donuts, kiddush wine bottles, a challah, and other Jewish-themed items. Once the chocolate hardened, he filled the bottle with real wine, the donut with jelly, and the challah with caramel. After receiving a crash course in creating chocolate molds with fillings inside, participants gathered around the worktables laden with all of the necessary chocolatier tools to get their hands messy.
Rabbi Raskin was thrilled with the reaction and the buzz in the room. "This adult-focused event has taken The Chocolate Factory workshop to a whole new level," he said. "A lot of work was put into the programming to ensure there was a perfect balance of providing an educational and thought provoking experience whilst having a good time. It's a big deal to see a vision like this one become a reality and the feedback we received is heartwarming."
"We look forward to more adult audience workshops and further collaboration with these wonderful communities as well as the surrounding Washington area," he said.