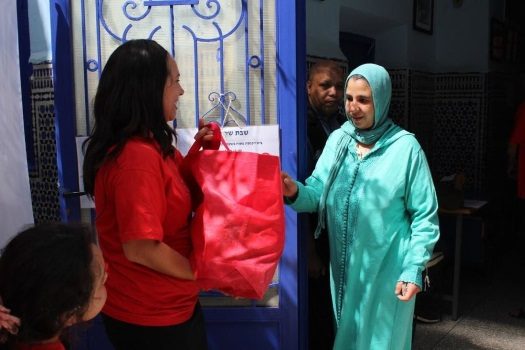 Photo: Kobi Yifrach
Chabad of Morocoo (Jeunesse Chabad Maroc) has teamed up with the International Fellowship of Christians and Jews (IFCJ) and the Mimouna Association, a Muslim student group, to deliver food aid to needy Moroccan families at the end of Ramadan.
The program, officially launched Sunday with an interfaith dinner at the Slat al Azama Synagogue in the Jewish Quarter in Marrakech, will provide food packages to some 1,500 local Moroccan Muslim families as they celebrate the feast of Eid al-Fitr, marking the end of Ramadan, reports JNS.org.
"Now more than ever, it is so important that the great faiths of our forefather Abraham come together to try to make the world a better place," said Yael Eckstein, senior vice president of the IFCJ.
"Since World War II, Morocco has set an example in this part of the world for its treatment of Jewish citizens. And today, it is our honor to stand with the people of Morocco, and show that we can overcome divisions and intolerance everywhere by building bridges of empathy and understanding and truly making a difference," she said.
Each food package will contain traditional Ramadan foods, including dates, tea, lentils, chickpeas and other staples.