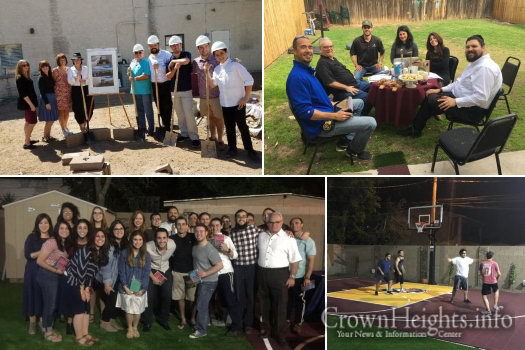 For Jewish Students at ASU, It's Time to Play Ball
from Lubavitch.com by Nehama Silvers
Jacob Lille was a sophomore on a mission.
Lille, who studies at Arizona State University, was in search of a place where he and his fellow students could congregate and chill out. A sports court, he reasoned, was exactly what they needed.
Enter Chabad at ASU. Lille presented his idea to renovate the Chabad center's backyard to Rabbi Shmuel Tiechtel, who co-directs the Chabad with his wife, Chana. The rabbi listened.
On a balmy Monday late in March, Chabad at ASU broke ground on their new state-of-the-art sports and entertainment space. The Law Tigers Outdoor Recreation Center, as the place is called, has not yet been completed, but students are already using the newly-installed basketball court and squeezing in spontaneous pickup games (sometimes with the Chabad rabbis) in between and after classes. A new basketball league, dubbed the ASJew Basketball League, is also in the works for next semester, and its Sunday games will involve student commissioners and a championship at the end of the season.
Volleyball courts, an outdoor fire pit, a barbecue and patio seating area, as well as a mist cooling system will allow ASU's 3,500 Jewish students to enjoy the large outdoor movie screen and surround-sound systems whatever the weather.
"Chabad at ASU has always been great, but this new recreational center just brings it over the edge. It brings it to a new level," says Lille.
Supporters and students who attend Chabad events say the the expansion was intended to draw in more Jewish students in a non-intimidating way. Warren and Judith Levenbaum, residents of nearby Paradise Valley, underwrote the project. "Warren and Judith are true visionaries and leaders of this project. They took a seed, planted it, and turned it into a blossoming tree," Tiechtel says.
Levenbaum explains that although he himself is not religious, he is "immensely impressed with Chabad's mission of inclusion." His goal, he says, is "to help create a space where all Jewish students at ASU will be comfortable and want to hang out and socialize, and connect with their community." To this end, he collaborated with Chabad to go all-out for their new center, describing it as 'a labor of love.'
"We have cut no corners and spared no expense. It is a gift to the Jewish community at ASU, and particularly to Chabad."
The additions to Chabad's yard are only the first part of a three-year, $300,000 project, all of which is sponsored by the Levenbaums. The next phase will involve an overhaul of the facade of the building and the surrounding landscape and the upgrading of the heating and cooling systems in the facility. Phase three will include a new, modern kitchen as well as newly renovated student housing next door to the Chabad center.
According to Mrs. Sarah Rimler, program director of Chabad at ASU, the landscaped backyard and lounge area, with its array of homegrown southwestern plants, will provide a calm and appealing atmosphere when it is used for outdoor classes and gatherings.
According to deputy vice president and dean of students at ASU Nicole Taylor, "The Chabad Jewish student center at ASU has a long history of engagement at the university and has played a central role in enriching the ASU experience for Jewish students and the larger community. The Chabad's new recreation center will expand opportunities for the Sun Devils [ASU's varsity teams] to participate in Jewish cultural events and strengthen ties among Jewish students and nearby Jewish organizations while fostering an even stronger sense of community."
Most importantly, says Jacob Lille, Chabad's renovations bring the promise of something more. "The student center at Chabad at ASU is bringing traffic to Chabad that normally wouldn't be there," he notes. "It's becoming more of a community center and not just a synagogue."
To learn more about Chabad at ASU, visit www.jewishasu.com.