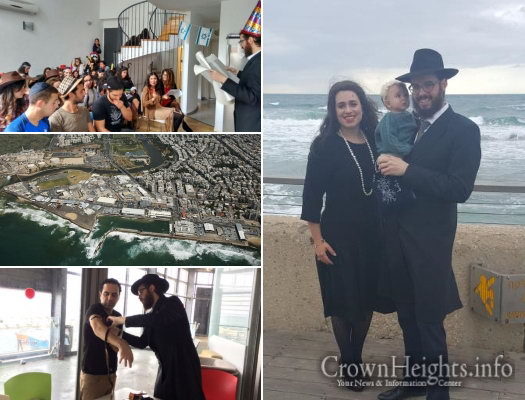 Jews Fleeing France Welcomed by New Shluchim
by Esther Gopin – Lubavitch.com
With the political unrest and anti-Semitic atmosphere in France, it's understandable that many French Jews have been leaving the country in growing numbers in the past few years to make aliyah.
According to the Jewish Agency for Israel, 7,835 individuals immigrated to Israel from France in 2015, and 2016 saw a lesser, though still significant, 5,000 new immigrants. Israel's Central Bureau of Statistics reports that 24 percent of all immigrants in 2015 were from France, and that a whopping 20.8 percent of them settled in the Tel Aviv district.
There, they struggle to integrate into a new country, new culture, and new lifestyle. Many can't make it; an estimated 10-35 percent return to their home country.
"Some of these French immigrants have a difficult time finding their place in the community," says Chabad emissary Estie Arnauve, who moved to Tel Aviv in May with her husband Yisrolik to provide Jewish and communal services for the French Jews living there. "They have a hard time integrating into the society due to the differences in the culture and language."
The Arnauves aim to address these challenges with programs geared specifically toward French immigrants and students studying in Israel.
"We are very excited to perpetuate the Rebbe's vision of guiding and assisting new olim," says Rabbi Arnauve. "In the 1950's, when there was a wave of immigration from Morocco, the Rebbe was very vocal about and supportive of the Chabad movement in Israel, who were picking up where Chabad of Morocco had left off and taking care of the physical and spiritual needs of their Moroccan brothers and sisters."
Now, he continues, "We find ourselves in a very similar situation. We are here to continue the great work of the Chabad emissaries in France—to help as many people as we can in any way that we are able to."
"Our goal is to create a base for the French community here," Estie Arnauve explains. "We will be here to provide them with all of their needs, from classes and activities in their native tongue to a home-cooked Shabbat meal. We are here for them."
In addition, the Arnauves plan to conduct all their events in French, including Holiday programs, classes, and camps. Yisrolik Arnauve is himself a native of France, and while Estie is brushing up on her French, both the Rabbi and Rebbetzin are fluent Hebrew speakers.
The couple, who spent some time in Tel Aviv pre-move, has already started conducting classes with the French students. With an average attendance of thirty students per class, and a Purim party crowd of about seventy, the need for a Jewish center in the area is clearly evident.
"Many of us students are here studying alone, away from our families and our communities," says Jeremy, a Parisian transplant who is currently doing an internship in Tel Aviv. "To have a place where I can meet other French students and listen to a class in French is really special. I am looking forward to having the Arnauves live here and to help them with the great work that they do."
"People are so excited," Estie says. "There's a huge void and they can feel it. We get tons of messages—they can't wait for the Chabad House to open."
Sometimes, she explains, French Jews who were traditionally observant back in France feel that they are lacking the insightful and joyous experiences of Judaism because they don't know where to go for Jewish services, or aren't affiliated with a Jewish community.
"Living in Tel Aviv, which is one of Israel's more secular communities, just makes it more difficult," Estie points out. "So we definitely have our work cut out for us."
There are currently about 40,000 French Jews in Tel Aviv, with many of them moving to the north to take advantage of housing developments there. With two other French shluchim already operating in central Tel Aviv, the Arnauves are targeting north Tel Aviv and the community in the area around the port.
"A lot of these people are at a transitory point in their lives because they made aliya, so we are there to help them," Estie explains. "It's a more difficult time, but it can also be a period when people are ready for and more open to spiritual growth."
The Arnauves, who will be operating under the direction of Tel Aviv's head emissary Rabbi Yosef Gerlitzky, will become the 50th branch of Chabad of Tel Aviv.
"We are sure that the Arnauves' efforts will be crowned with great success," Rabbi Gerlitzky says.
To learn more about Chabad of North Tel Aviv, visit their Facebook page, Beth Loubavitch Tel Aviv or to donate Click Here.