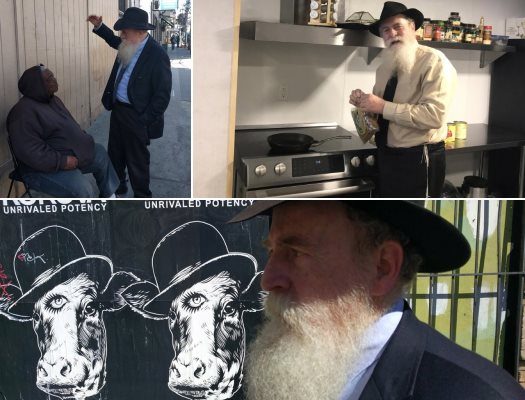 from J Weekly:
Rabbi Yosef Langer strolls down Sixth Street in San Francisco's South-of-Market neighborhood like a politician on the campaign trail, stopping to shmooze with people along the way.
One of those was Marvin, who was slouched up against the wall at Sixth and Natoma streets. (He has a severe drinking problem, the rabbi later confided.) As the two chatted, Langer told the man it was his birthday. Marvin dug out his ID to prove it was his, too, prompting Langer to lead a bewildered group of passersby in a rendition of "Happy Birthday" before handing the guy a few bucks as a birthday present.
This kind of encounter is why Langer believes it's important to have a Chabad branch in the neighborhood. He likened it to the Ba'al Shem Tov — the 18th-century founder of Hasidic Judaism — walking out of his synagogue to talk to people in the marketplace.
"He would just ask people, 'How are you today?' And I'm finding that's just my M.O. down here, right now," Langer said.