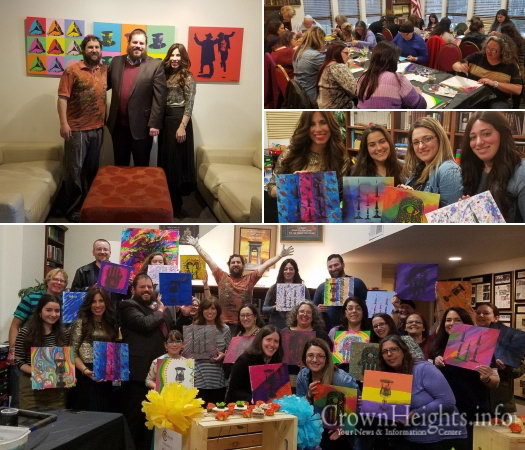 Chabad of Orange County, NY, directed by Rabbi Pesach and Chana Burston, recently hosted a Jewish Pop Art Event with "Pop Art Rabbi" Yitzchok Moully.
The bright and spirited evening, which included friends, wine and pastries, featured a creative silk screen painting workshop led by Moully.
Many visitors to Chabad may be familiar with Moully's pop art, as it's prominently featured in the lobby at Chabad.
As a child Rabbi Yitzchok Moully's upbringing was off the beaten path. Raised by former hippies, Moully was exposed to far more color than one would expect in the rigorously orthodox Chassidic community. Moully's formal education in day schools in Australia and later at the Rabbinical College of America did not include formal art classes but his inner passion yearned for expression. After dabbling in various forms of art Moully found an expression for his creativity in the silkscreen process.  Moully's art contrasts strong Judaic and Chassidic images with vibrant bold colors to create a startling combination which he describes as "Chassidic Pop Art."  Moully's art reveals that the essence of Chassidic thought is far from black and white.  Under the black hat there is a wealth of vibrant colorful energy waiting to be released. Yitzchok Moully is the founder of The Creative Soul and lives in Hillside NJ, together with his wife Batsheva and six children. His website is www.MoullyArt.com.
The event was sponsored by Chabad as part of its adult education programs, aimed to inspire Jewish education in a fun and creative setting.  The event was made possible due to the generosity of Lee and Michelle Sentell, Jim Rogers, Brigitte Glasser, David Pollack in honor of the Taxi Dave Show (WOR 710 from 8-9 PM) and in honor of his Mother, Sondra, and by Ira and Karen Kanis.
David Pollack, who could not attend the event because he hosts his radio show at the time the event was held, made a deal with the Shliach that he would sponsor the event if the rabbi would make him a painting… The rabbi accepted the challenge!
To learn more about Chabad's community events, program and services, contact Rabbi Pesach and Chana Burston at 845-782-2770, email rabbi@ChabadOrange.com or visit www.ChabadOrange.com.