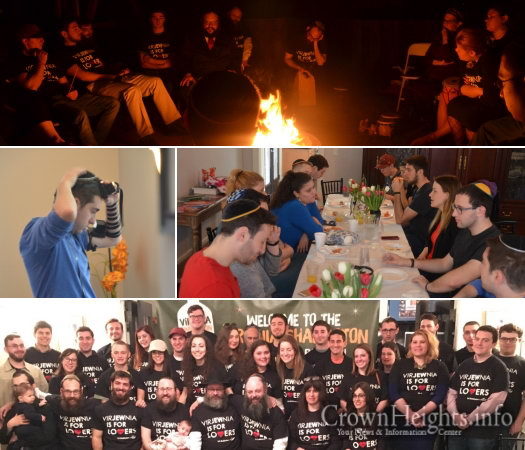 110 Jewish college students from across Virginia gathered for a one-of-a-kind Shabbat experience, hosted by the Chabad House at University of Virginia, on the weekend of March 24-26 in Charlottesville.
The Chabad on Campus Virginia Shabbaton provided a fully immersive Shabbat experience that featured festive meals, beginner's prayers services, world-renowned teachers and speakers, educational and entertaining workshops and a musical, candle-lit Havdalah service.
Students attending the Shabbaton came from a variety of backgrounds. Some were exposed to Judaism at a young age, while others just recently discovered their heritage. According to Channa Mayer, Co-Director of Chabad at University of Virginia, the diversity of the students that attended the Shabbaton created the jubilant atmosphere of the weekend. "It was an incredible feeling to see so many diverse students have so much unity in one small space. It felt like Virginia was exploding with joy!"
The Shabbaton was partially sponsored by Chabad on Campus International, and organized by a committee of Chabad on Campus directors across Virginia, including Rabbi Shlomo and Channa Mayer, Co-Directors of the Chabad House at University of Virginia.
One of the weekend's highlights was a workshop led by Rabbi Shlomo Yaffe, Dean of the Institute of American and Talmudic Law in New York. Rabbi Yaffe, who has led seminars and scholar programs throughout North America, Mexico, Europe and Africa, has also sat on panels with distinguished members of the bar, including Justice Scalia of the United States Supreme Court.
"I really enjoyed hearing Rabbi Yaffe's talk," said Erin Massey, a senior at University of Virginia. "He knew so much about science and Judaism that it was great to hear his opinions on both from the perspective of a scientist and a Rabbi."
The program began with icebreakers for the students, who became acquainted with each other and developed friendships throughout the various activities and discussions held during the weekend.
"It was incredible getting to know other Jewish students from other schools," said Virginia Tech Junior Sara Sacher. "When you get together with other Jews it feels like you know people without saying anything. I love that energy!"
Other notable Shabbat programing included an uplifting Shabbat evening prayer service, a festive Friday night meal, singing and dancing, inspirational study sessions and a Saturday night extravaganza.
"The Shabbaton was a great place to talk to other college students to find out how they incorporate Judaism into their everyday lives," said Evan Simon, a freshman at George Mason University. "And when the company and food are excellent, what else do you need?"
Chabad on Campus, an international organization that offers a home away from home to Jewish students for all backgrounds, has experienced exceptional growth on college campuses across North America and the world. Over the past ten years, the number of Chabad on Campus Centers in the country has grown from 74 to 256 Chabad on Campus Centers around the world.
"Regional Shabbatons are extremely meaningful, as they allow for Jewish students from different campuses to meet each other and spend significant time together bonding over a shared love of Judaism," said Rabbi Yossy Gordon, Executive Vice President of Chabad on Campus International. "While the students come together for a seemingly short period, the friendships and connections forged over regional Shabbatons can last a lifetime, and students return to campus empowered and inspired."
Students from Chabad at the following universities participated in the Shabbaton: George Mason University, led by Rabbi Mendel and Raizel Deitsch; University of Virginia led by Rabbi Shlomo and Channa Mayer; Redford University and Virginia Tech, led by Rabbi Zvi Yaakov and Chani Zweibel.