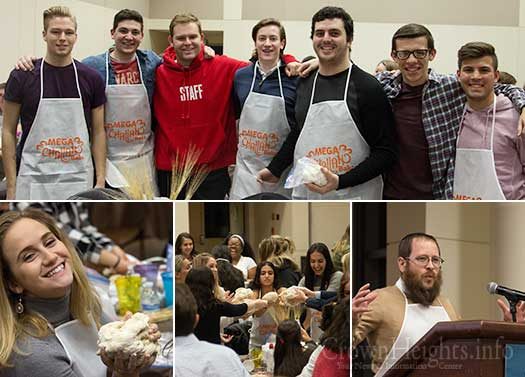 Hundreds of students at the George Washington University in Washington, DC came together for a Mega Challah Bake the likes of which GW has never seen before.
"The energy in the room was electric", said Chabad GW president Eitan Abergel '19 who organized the event together with his fellow Chabad student leaders and in partnership with AEPHi SDT and KKG. "This is what Jewish pride feels like and we are loving it!"
Upon entering the Grand Ballroom in the Marvin Center, the students were greeted by rows of elegantly set tables, complete with personalized aprons and a set of Challa ingredients.
"Shabbat has kept the spirit of the Jewish People alive for thousands of years", said Rabbi Yudi Steiner who was invited by emcee Alana Gross to address the assembled. "Each and every one of you here in this room is living proof that Am Yisrael Chai – the Jewish spirit is alive today and more vibrant than ever at George Washington University".
Then it was action time! Water, sugar, yeast, eggs, salt and oil went into the bowls. Participants were guided in the Challah creation process by Gross.
"We all have the power to turn Saturday into Shabbat", said Rivky Steiner. "Let's make that happen this week and every week!"
The students concluded with braiding their dough. The Challahs were painted with egg wash and sprinkled with an assortment of traditional and modern creative toppings.
Chabad is the largest student group on campus (Jewish or otherwise) and has engaged more than 3,000 students on campus in this academic year alone through a plethora of fun and educational events. Programs include weekly Shabbat dinners which draw close to 100 students on a regular basis, the GW Sukah on Kogan Plaza, the Sinai Scholars Society, Pizza and Parsha, Torah and Tea, Friendship Circle and more.
"None of this would be possible without the vision and generosity of an outstanding group of committed and philanthropic alumni including David and Danielle Spier, Josh Sassounes, Sean Burstyn and many others" said Carly Meisel who is extremely active with Chabad.
Meisel is part of a large and growing group of GW students who have taken time off of school to attend Mayanot Yeshiva in Jerusalem, Machon Alta in Tzfat, Tiferet Bachurim in New Jersey and other Chabad Yeshivot and seminaries. There is even a Chabad GW alumnus who is a full time Shliach. Rabbi Eliyahu Sassoon is a prodigy of Rabbi Steiner and currently serves as a Shliach in Johannesburg, South Africa.
"The level of success that we see at Chabad GW is not something that I can explain", concludes Carly "As I see it, it is nothing short of a miracle."