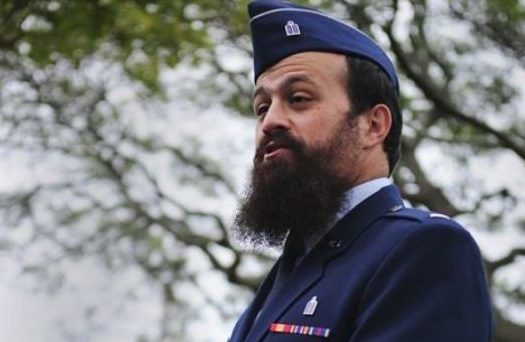 US Air Force 1st Lt. Rabbi Levy Pekar
New Chaplain Fulfills Wish of Soldier Killed in WWII
by Ruthie Blum – Algemeiner
At a ceremony last week, the rabbi chaplain recently assigned to the Nellis Air Force Base in Nevada honored an American Jewish soldier killed in the line of duty days before the surrender of Japan in World War II, by granting his 72-year-old wish to have a Star of David engraved on his tomb stone, a feature published by the Honolulu-based Air Force 15th Wing website detailed on Friday.
First Lieutenant Levy Pekar, 29, who is currently undergoing basic training at the Maxwell Air Force Base in Alabama — led the headstone-replacement ceremony for Staff Sgt. Jack Weiner.
Pekar said that Weiner's story "resonated with me on so many different levels. With both of us being Jewish and airmen, I felt like his story could have easily been mine. His story affected me on a spiritual level and as my duty as chaplain I knew we had to correct this mistake…I found out about Sgt. Weiner's story from his cousin. At first, it sounded like miscommunication, because we couldn't find anything about him.  But after some digging, we were able to find the Quarter Master General's form that confirmed Sgt. Weiner's wishes to have the Star of David on his headstone."
"What we're doing here is known as the Hesed Shel Emes or the truest form of kindness. One of the best things you can do in your life is something for the dead because it is something that can never be repaid," Pekar added, referring to how Weiner – a navigator assigned to the 345th Bombardment Group stationed in Japan – was killed in action when his plane was shot down days before the US bombed Hiroshima and Nagasaki and caused the Japanese government to surrender.
Originally buried at Yokohama Cemetery in 1945, Weiner's body was moved four years later to the National Memorial Cemetery of the Pacific in Hawaii. It was during the move, according to the 15th Wing, that his headstone inadvertently ended up with a cross emblazoned on it.
"We have a sacred duty to protect our service members and we will do so in all cases, in life and in death," said Pekar. "It is easier to protect them while they're alive, but it becomes a bit harder after they have passed. I'm just glad we are able to set a precedence of correcting mistakes when we become aware of them, even seventy years later."
A few dozen members of Hawaii's Jewish community attended the  headstone-replacement ceremony, reading psalms and reciting kaddish, the Jewish mourners' prayer.
On his Facebook page on Sunday, Pekar wrote of the event: "72 years in the waiting and 6 months in the making. My first step as an Air Force chaplain correcting a World War 2 era mistake and an incredible honor to be part of this rectification."
Pekar, according to a Jewish Voice interview in early February, was born into a Chabad-Lubavitch family in Monsey, NY, and grew up in the Beitar Illit settlement just outside of Jerusalem, the city where he was ordained. Today, in addition to his Air Force duties, he is studying for his master's degree in mental-health counseling.