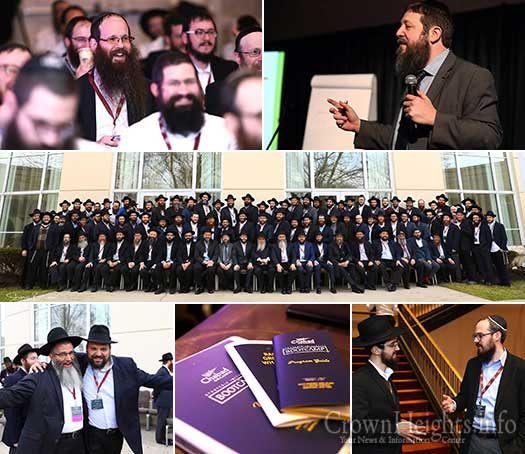 Campus Shluchim Train at Development Bootcamp
107 Shluchim from around the world gathered at a strategic development Bootcamp in New York as part of the Chabad on Campus International Strategic Initiative.
The three-day intensive Bootcamp, held at the Hyatt Regency Long Island, was designed to train Shluchim to better communicate, relate, and understand their students and donors.
The Bootcamp featured world-class experts hand-picked to deliver new methods for strategic growth in these areas.
The program began at 6 AM each day and went straight until 11 PM each night.
Rabbi Elazar Green, the newly appointed director of Chabad on Campus International's Strategic Initiative, designed, hosted, and produced the Bootcamp together with Avi Weinstein and the Chabad on Campus International team. Rabbi Green presented and moderated throughout the Bootcamp.
Marc Pitman, a fundraising guru and accomplished author, trained the Shluchim on how to "Ask without Fear" in a series of workshops.
Another series of workshops on the topic of "How to Communicate Effectively with Your Donors", were presented by Tom Ahern, an award-winning copywriter and journalist and "one of the country's most sought-after creators of fundraising messages," according to the New York Times.
The Bootcamp also featured renowned Chabad trainers and personalities. Rabbi Moshe Kotlarsky, Vice-Chairman of Merkos L'Inyonei Chinuch and Chairman of Chabad on Campus International, gave the keynote address at the Bootcamp's opening dinner and spoke about his many directives from the Rebbe regarding growth.
Rabbi Yisroel Brod, a coach to many Shluchim, trained the Shluchim in budgeting, time management and donor tracking.
Well known motivator, Rabbi Mendel Duchman, coached the Shluchim on how to apply what they are learning to their Shlichus when they get back home.
Renowned teacher and lecturer, Rabbi YY Jacobson, trained the Shluchim on how to teach Torah effectively, in a practical and meaningful way so students and donors can relate to it and apply it in their lives.
A Free-Style Q&A afforded the Shluchim the opportunity to ask any question to the distinguished panel of presenters.
The rich program and environment inspired both Shluchim and presenters. Pitman, who is not Jewish, was so moved by the Shluchim that he went to the Ohel directly after the program to give the Rebbe a glowing report on his emissaries.
"The atmosphere at the Bootcamp was electric." said Avi Weinstein of Chabad on Campus International. "Having so many Shluchim work together on developing the tools to take their Shlichus to the next level for three days straight from early morning to late night was extremely inspiring."
Although the actual Bootcamp lasted three days, a critical additional component, called BootcampPLUS, was designed to ensure that Shluchim can apply everything they learned to their Shlichus.
BootcampPLUS is a six-month program which immediately follows the Bootcamp whereby every participating Shliach at the Bootcamp is paired with either a professional coach, Rabbi Shmuly Rothman or Mark Wilensky, or with a Peer Partner. Shluchim then create goals and are held accountable to them by their Coach or Partner.
The BootcampPLUS program will also be holding scheduled webinars and conference calls for the Shluchim throughout the next six months for ongoing training. Additionally, all Bootcamp Shluchim stay in touch and receive ongoing guidance on specific BootcampPLUS email and WhatsApp groups.
Rabbi Yossy Gordon, executive vice president of Chabad on Campus International, commented, "On numerous occasions the Rebbe encouraged Shluchim to organize their budgets in a systematic fashion and to seek advice from knowledgeable friends about fundraising. For this Bootcamp, we gathered the very best people in the field in order to provide the tools to plan their strategic growth."
Rabbi Gordon also thanked those who financially support Chabad on Campus: "We are so grateful and appreciative for their generosity in partnering with us in our work and allowing us to offer this invaluable program."
Photos by Shimi Kutner