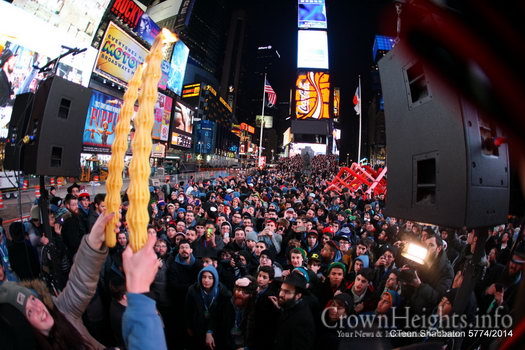 CTeen Shabbaton: The Countdown Begins
It's that time of year again; The CTeen International Shabbaton, the largest youth Shabbaton in the country, is less than three weeks away. What began nine years ago with forty-teens has expanded to 1,516 set to arrive this year, iy'h. When calculated with chaperones, and staff, the number jumps to a whopping 2,034 participants, making this the largest Shabbaton to be hosted in Crown Heights to date.
CTeen would like to offer our sincerest gratitude to every shliach who took part in this unbelievable and historical journey throughout these 9 years. Additionally, to the residents of Crown Heights for constantly opening their homes and their hearts, without question, and for giving these neshamas a chance to experience Yiddishkeit at it's source.
"We have seen CTeen grow from 40 teens to well into the thousands," shared Rabbi Mendy Kotlarsky, Executive Director of Merkos 302. These numbers are a testament to the dedicated shluchim who have worked tirelessly to bring Jewish teens closer to Yiddishkiet."
Around the world, CTeen chapters and teens have eagerly begun preparing for the event of the year. Teens and shluchim alike have taken to social media to post and share their excitement as the countdown to the Shabbaton draws closer.
"We're bringing 207 teens from throughout France," shared Rabbi Mendy Mottal, the head shliach of CTeen, Paris. "Each year, the energy and effort that is poured into making this event is incredible. Our teens always have a uplifting and inspiring experience, much of which I attribute to the incredible community feeling that Crown Heights offers us."
This year, for the first time, CTeen will be welcoming chapters from Moscow, Monaco, Venezuela, and Brazil, marking this the largest international group ever.
"As a new shlucha to CTeen, I was nervous about bringing in a group for the Shabbaton," shared Brochie Levin, CTeen shlucha to Calgary, Canada. "The amount of advice, prep, and work that was put into helping us was incredible. Our teens are so excited, and so are we."
"The draw for many of the teens arriving from South and Central America is the chance to meet other Jewish teens from around the world. Most of them have never traveled to the United States; the preparation that has gone into this event has been incredible," shared Rabbi Chai Kohan, the head of CTeen Espanol
We turn to you, residents of Crown Heights, and ask for your help in making a kiddush Hashem by welcoming teens and chapters into your homes for Shabbos. If you are interested in hosting, please call 718.467.4400 ext. 4344 or email to shabbaton@cteen.com.