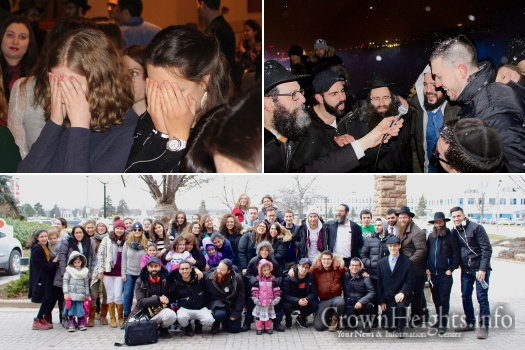 Jewish Student Shabbaton Largest in Canada
Hundreds of Jewish college students from across Canada gathered for a one-of-a-kind Shabbat experience in Niagara on the weekend of January 27th-29th. The Chabad on Campus Canada Shabbaton provided a fully immersive Shabbat that featured world-renowned teachers and speakers, educational and entertaining workshops, a mega Shabbat dinner, and a musical, candle-lit Havdalah service at Niagara Falls.
Students attending the Shabbaton came from a variety of backgrounds. Some were exposed to Judaism at a young age, while others just recently found out about their heritage.
According to Rabbi Moshe Goldman, Co-Director of the Rohr Chabad Center for Jewish Life at the University of Waterloo, the diversity of the students that attend the Shabbaton created the unique atmosphere of the weekend. "The Shabbaton allows for students to meet new friends and catch up with old ones they might not see as often as they like. The camaraderie amongst the students develops exponentially faster over the course of Shabbat, because they are in a 25-hour bubble, disconnected from the outside world, and can focus on being present, and fully embrace the Shabbat experience."
The Shabbaton was sponsored by Chabad on Campus International, organized by a committee of Chabad on Campus directors in Canada, led by Rabbi Moshe Goldman, and hosted by Rabbi Zalman and Perla Zaltzman, Co-directors of the Rohr Chabad at Brock University in St. Catherines, Ontario, not far from Niagara. Highlights included Scholar in Residence Rabbi Moishe New, founder and spiritual leader of the Montreal Torah Centre, who conducted a workshop focused on deploying the teachings of Chabad philosophy to respond to life's stressful and anxious moments.
The weekend featured an Israel Advocacy workshop, ran by Dan Abecassis from the Centre for Israel and Jewish Affairs, CIJA. He shared successful skills and tactics to help students make a difference on campus. Rabbi Zalman and Chaya Schurder, student advisers at Chabad on Campus International, provided students on the Shabbaton information regarding a myriad of opportunities available in the field of advanced Jewish study during semester break.
Chabad on Campus, an international organization which offers a home-away-from-home to Jewish students for all backgrounds, has experienced exceptional growth in Canada. Over the past 10 years, the number of Chabad on Campus centers in the country has grown from two to 18. There are 256 Chabad on Campus Centers around the world.
"Regional Shabbatons are extremely meaningful, as they allow for Jewish students from different campuses to meet each other and spend significant time together bonding over a shared love of Judaism," said Rabbi Yossy Gordon, Executive Vice President of Chabad on Campus International. "While the Students come together for a seemingly short period of time, the friendships and connections forged over regional Shabbatons can last a lifetime, and students return to campus empowered and inspired."
"The weekend was incredible," said a Melissa A, Sophomore from The University of Waterloo. "Experiencing Shabbat with fellow students from all over Canada really instilled a sense of togetherness and belonging, and we will go back to campus as prouder Jews."
Partaking students came from the following universities:
Brock University
Carleton University
Concordia University
Dawson College
McGill University
McMaster University
Queen's University
Université de Montreal
Universite Laval – Quebec City,
University of Guelph
University of Ottawa
University of Toronto
University of Waterloo
Vanier College
Western University
Wilfrid Laurier University
York University