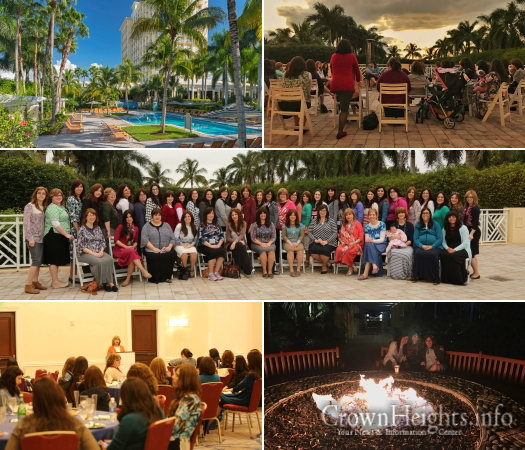 Chabad on Campus Shluchos from across the U.S. and Canada enjoyed three days of relaxation and rejuvenation in sunny Florida at the Ashreinu Society Annual Retreat. The winter break getaway took place at the Hyatt Coconut Point Resort, in Bonita Springs, Florida.
Sponsored by Chabad on Campus International, the group of almost 60 Shluchos enjoyed an array of physical, emotional and spiritual pampering. As Elisa Gurevich, Co-Director of Chabad House @ UCLA described it: "Coming to the retreat and being able to read, relax, take care of myself and bond with other shluchos has really given me a fresh reserve of energy to bring back to my makom hashlichus to start the next quarter."
Ashreinu Society for Shluchos was formed by Chabad on Campus International to keep Shluchos connected with each other and provide them inspiration and encouragement throughout the year. Ashreinu organizes bi-weekly conference calls for groups of Shluchos as well as virtual farbrengens with world renowned speakers. These initiatives serve as a lifeline to Campus Shluchos located around the world.
"The annual retreat was created to give the Shluchos some time to reconnect with themselves and each other in a relaxed setting," said Rabbi Yossy Gordon, Executive Vice President of Chabad on Campus International. "These are a remarkable group of women who dedicate their every waking moment to their families, their students and to their Jewish leadership role on campus. It is our honor to be able to provide them some well earned rejuvenation."
During the retreat, the women partook in a range of inspiring workshops and activities, from massages and exercise class, to a beach picnic on a private island.
Some of the other highlights included an in-house paint night led by artist Mrs. Batsheva Moully as well as learning sessions and farbrengens led by Mrs. Bronya Shaffer and Mrs. Fajgi Itkin-Lieberman, which went late into the night.
Matti Banon, Co-Director of Chabad at the Université de Montreal, summed the retreat up like this, "In order to be able to give, one needs to feel alive. It's hard to inspire when one is running low. The experience left me with a feeling that I got a recharge."