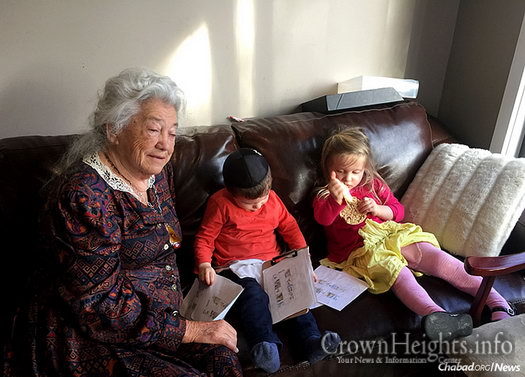 Christina Hacker, 92, visited the home of Rabbi Shmuel and Chasia Feldman in Canberra, Australia, after recently discovering her Jewish roots. Here, she enjoys the company of two of the Chabad couple's five children.
92-Year-Old Nazi Fighter to Celebrate Her 1st Chanukah
by Faygie Levy Holt – Chabad.org
Christina Hacker, a 92-year-old native of Austria who has made her home in Australia for decades now, recently celebrated a number of "firsts" as an identified Jew.
Raised Catholic, Hacker says she was unaware that she was Jewish until last year, when she met Rabbi Yosef Rodal of the Chabad of Rural and Regional Australia, who visited the town of Jindabyne where she resides. When she mentioned to the rabbi that her maternal grandmother was Jewish, he surprised Hacker by stating that meant she was as well.
Yet it wasn't until a chance (some might say providential) encounter with Rabbi Shmueli Feldman, who directs Chabad ACT (Australian Capital Territory) in the country's capital of Canberra with his wife, Chasia, right before Rosh Hashanah that she really began to explore her newfound identity.
Feldman and his oldest daughter, 5-year-old Chaya Mushka, were dropping off packages of apples and honey to an area hospital, along with cards made by students at the local Chabad preschool. Even though no Jewish patients were listed there at the time, the rabbi was planning to leave a few packages in the chaplaincy office when the supervisor told him about an older woman in the cardiac unit who said she identified with the Jewish faith. Intrigued, Feldman and his daughter headed for that wing in search of the patient.
When they reached the room, they saw an elderly woman sitting in the hallway just outside the door. The rabbi informed her that they were there to see Christina Hacker.
"She lit up and said, 'I'm Christina.' She then ushered us into her room," related the rabbi.
Telling Her Story
As they sat there on a Friday afternoon, Hacker—who has multiple medical issues, including trouble with her hearing and sight—made it clear that she wanted to celebrate Rosh Hashanah and come to the communal dinner that Chabad was hosting for the Jewish new year.
"She was in the heart unit, so I said: 'If your doctor allows it, then I'll arrange for someone to pick you up,' " said Feldman. "On Sunday, before Rosh Hashanah started, she called and said her doctor would discharge her so she could come to dinner."
Though her husbands were Jewish (Hacker married three times), this was the first time that she herself celebrated the holiday as a Jew.
"During the meal at the Chabad House," said the rabbi, "I asked her to tell her story."
Born and raised in Austria, Hacker grew up under Hitler's rule. As a teenager, she described being part of the resistance movement working to smuggle Jews and others over the Austrian border and into Italy. In total, she believes that she helped 48 Jews and 10 other people escape.
During the war, she confided her actions to one person: her grandmother.
Hacker said that "when I told her about the first job I did going over the border, I said: 'I have to tell you secret; you must not tell anyone.' I said I have only you to trust, and she said: 'Don't trust me with this; you must not tell anyone.' "
It was then that her grandmother revealed her own secret: that she was Jewish. The family had all been baptized and no official records of her Jewishness existed, but she wanted her granddaughter to know the truth.
Still, the direct lineage had not been properly explained to Hacker until now.
"After all these years, finding out I myself am Jewish . . . it's the first time in my life that I feel I belong," the rabbi reported her saying at the holiday meal.
Hacker brought the room to tears. "It was so emotional," said Feldman. "I spoke after her and said that we promise to be here as a measure of thanks on behalf of all the thousands of Jews who are alive today because of you. We promise to be here for you and be a family."
Hacker said that getting to spend Rosh Hashanah with the Jewish community made her "very happy, very happy—that someone cared and wanted me."
Awaiting the Next Holiday
Just a few weeks ago, Hacker spent a traditional Shabbat with the Feldmans and their five young children.
Of the nonagenarian, Chasia Feldman said: "She is really quite incredible. It is inspirational to see the way she deals with her lack of eyesight. She is accepting of the reality, manages things well and does not complain. And she is a kind and thoughtful individual."
Hacker even managed to entertain the younger Feldmans.
"She put the children on her lap and sang nursery rhymes to them," related Chasia Feldman. "Even though she doesn't have her eyesight, she has a tremendous amount of insight. She has an understanding of what needs to be done, as if she could actually see what is going on around her."
Now back in Jindabyne, more than two hours away from Canberra, Hacker is looking forward to Chanukah. She plans on holding a party at home, which she shares with her 73-year-old son, who upon learning that he was Jewish put on tefillin (she also has three daughters). But she isn't tackling it alone. Rabbi Rodal and visiting rabbinical students will be helping with the celebration, spreading some light Down Under.