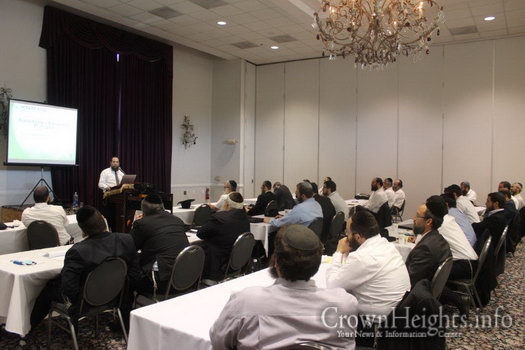 Shluchim gathered this week at the Finder Family Jewish Leadership Institute, under the auspices of Chabad of the Valley, California, for a Rabbinical Conference entitled "Chuppah and Kiddushin Halacha Lema'aseh."
The conference was opened by Chabad of the Valley's Rabbi Mordechai Einbinder and the proceedings were chaired by Rabbi Mendel Lipskier of Chabad of Sherman Oaks, who organized the forum. The two day advanced course was instructed by noted Rabbonim including: Rabbi Yosef Shusterman and Rabbi Shimon Raichick from Los Angeles, together with Rabbi Yochanan Gurary (Eretz Yisroel), Rabbi Pinchas Althaus (Eretz Yisroel) and Rabbi Mordechai Farkash (Seattle, Washington) who flew in specially to conduct the accredited course.
This conference follows a Young Jewish Leadership event held over Succos and also a seminar – "Fundraising Your Way to Success" that took place earlier this year at the institute with Rabbi Yisroel Brod. Rabbi Brod has assisted countless Shluchim in raising significant funding and bringing financial stability to their Moisdos. The Finder Family – Jewish Leadership Institute was originally established by Rabbi Joshua B. Gordon, of blessed memory together with its benefactors Mr. and Mrs. Gary and Rochelle Finder.
At the earlier seminar held before the summer, Mr. Finder shared his admiration for the wonderful work that the Shluchim do and conveyed a donor's perspective on the world of fundraising. Future conferences and events of the institute are currently in the works.